Congee is a type of thick soup or stew porridge made from rice or legumes, heated and stirred until thick, and typically eaten for breakfast. Bubur Ayam or chicken congee is a type of congee that is consumed by Indonesian. Besides the traditional chicken congee, the instant congee is now common. Bubur Ayam is the most favorite breakfast food in Indonesia. The traveling vendors, small local shops, fast food establishments, and five-star hotel restaurants serve it every morning.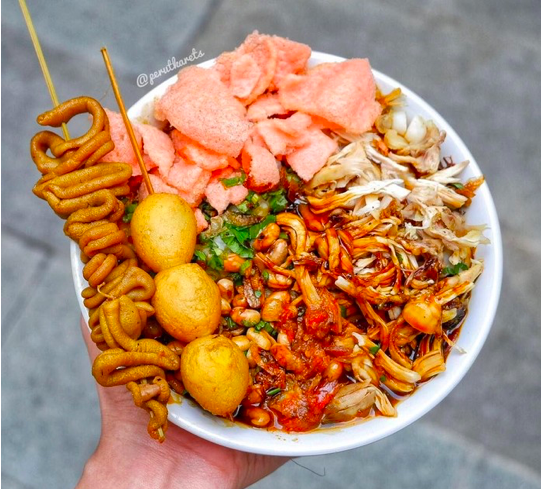 The origin of Bubur Ayam was derived from Chinese chicken congee because it consists of Chinese cuisine cakwe (youtiao) and soy sauce. According to Murdijati Gardjito, a professor of food technology at Gadjah Mada University, during the colonial period, the congee was consumed during the harvest failure, the postponement of the harvest period, and during the rice crisis. Bubur Ayam consisted of several condiments, such as shredded chicken, fried soybeans, crackers, cakwe (fried donuts/bread), and boiled eggs. Sometimes, it is often eaten with satay of chicken liver and intestine.
Each region in Indonesia has different characteristics of chicken congee, for example, Bandung chicken congee has yellow sauce and thick congee, Betawi chicken congee uses shredded fried chicken and fried soybean toppings. Cirebon chicken congee, Sukabumi, and Cianjur chicken congee have different concoctions.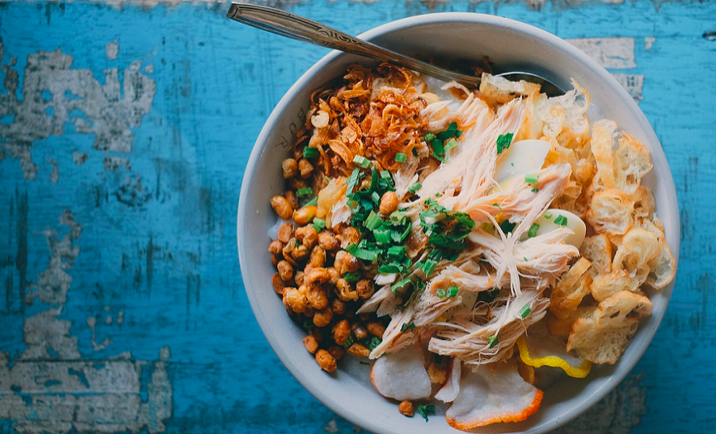 The ingredients (for 4 people).
Rice congee
200 gr rice
2 liter of water
½ teaspoon salt
2 bay leaves
Fried chicken and chicken broth
1/2 chicken
1 liter of water
1 lemongrass, bruised
1 fresh kaffir lime leaves
1 bay leaves
Accompaniments :
Fried soybean
Thinly sliced spring onion
Fried shallots
Chili sauce
Sweet soy sauce
Prawn crackers
Youtiao (known as cakwe in Indonesia)
Preparation details
Chicken Broth: heat 2 tbsp oil in a large pot with medium-high heat. Saute lemongrass, fresh kaffir lime leaves, and bay leaves until fragrant. Add chicken and add 1 liter of water. Bring to boil and reduce heat to maintain a simmer until the chicken fully cooked about 20 minutes

Remove the chicken and set aside to cool down a bit. Heat a bit of oil in a frying pan over medium heat and fry until both sides are golden brown. Shred the fried chicken into thin pieces and set aside.

Cooking the congee: Cook the rice, 2 liter of water, chicken broth, salt, and bay leaves until it boils. Reduce the heat to medium and continue to cook for 35-40 minutes until the rice breaks down into porridge with a texture resembling slightly soupy oatmeal

Serve the congee with the shredded fried chicken and the assorted accompaniments.
Tips
Use low heat to cook the congee and don't forget to stir it, so it doesn't burn.
You can add coconut milk to boil the chicken to make it more tasteful
You can use the advanced rice cooker to make porridge, it shortens the time to cook.
If you don't find sweet soy sauce, you can make a substitute by whisking equal parts molasses and reduced-sodium soy sauce.
Nutrition Facts
The nutrient content in the congee is the same as the nutrient content in rice, but the amount is different for each portion because the congee contains more water. In each serving (240 grams), chicken congee contains 372 calories, 36 grams carbohydrates, 12 grams fat, 27 grams protein, 584 miligrams sodium and 406 miligrams potassium.
The protein content in chicken congee is quite high because it has animal and plant-based protein sources, such as soybeans, shredded chicken, boiled eggs, and chicken liver. Soybean is the main source of lysine, which is essential amino acids that cannot be made by the body. As a result, they must come from food. Some investigations have involved the phytochemicals contained in soybean as functional in the reduction of cholesterol and prevention of: cardiovascular diseases, diabetic symptoms, bone lose straight and cancer.
When compared to rice, congee is processed more quickly into sugar in our body. Apart from its soft texture, its absorption is also relatively easy so it is very suitable for consumption by people who are sick but it is not recommended for diabetics. This is also due to the high glycemic index (the ability of food to increase blood glucose levels), which is 90.
—-Ykn Isak
Related Articles