On Thursday July 16, 2015, BTS held their first US concert for their 2015 Red Bullet tour at Best Buy Theater in New York City. According to fan accounts on Twitter, the show was going well and provided plenty of fun and excitement. At one point, BTS walked off the stage.
Many fans felt this was a part of the show until organizers took the stage to tell fans the show was over and the Hi-Touch would be canceled due to a safety concern.
THIS IS WHAT HAPPENS WHEN PPL THINK ITS FUNNY TO THREATEN NAMJOON, HI TOUCH CANCELLED #TRBinNYC pic.twitter.com/jL2rvCOJfY

— Natasha ?TRB TODAY? (@TaeWithMe) July 17, 2015
When the announcement was made, it was unclear what the concern was about other than it was serious due to the cancellation; police were also called to the venue. At first, fans felt the cancellation was due to people taking videos and photos. As news spread on social media, fans discovered the cancellation was due to someone making a threat against Rap Monster on Twitter. The account holder posted a photo of a gun and the caption "Just brought my gun it's about to go down RIP namjoon #TRBinNYC" (sic).
When reports of the threat started to emerge, some felt it may have been due to recent comments Rap Monster made in Australia regarding how he couldn't see two fellow members because of their "blackness." So far, the connection is unconfirmed and this threat is the result of a sick, unfunny joke.
As fans dug further into the threats, they discovered the person who made the threat—this person will not be named as he or she does not deserve such notoriety—was not in attendance at the show and may not even be located in the United States. When other fans pressed the alleged threat-maker, the person admitted to living in Canada, then tried to claim his/her Twitter account was hacked before disappearing.
It is unclear at the time of this writing if police questioned or plan to question the individual.
Even though the Hi-Touch event and part of the show were canceled, BTS did take to Twitter to express their gratitude for fans and thanked them for attending the show. The boys' spirit and seemingly good nature lifted fans moods.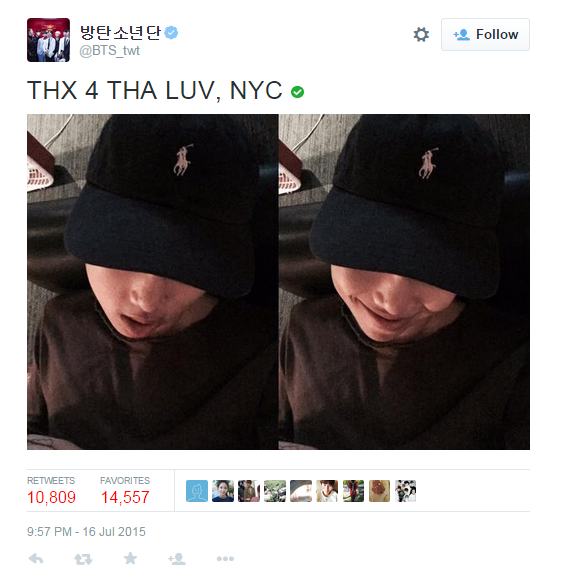 For several hours following the threat, #TRBinNYC trended on Twitter. Fans shared their accounts of the show and expressed frustration over how one person ruined the fun of what many considered a great show.
BTS fanclubs and individual ARMY members mobilized to trend tweets of apologies to the boys to reassure them that not all fans are bad fans and that they are grateful for their visit to New York and the US. In Dallas, Chicago, and LA, fans have appreciation events and activities planned as an apology for BTS for the sad end to the New York City show.
SubKulture and Big Hit are supposedly discussing whether to cancel Hi-Touch events in the remaining stops of the US tour. At the time of this writing, Hi-Touch events are still expected to go on despite misinformation floating around social media suggesting the events have been canceled. At this time, it is wise to await word from Big Hit or SubKulture.
Sadly, this isn't the first threat to hit a K-Pop concert this year. In June, a fan threatened to set off a bomb at a BIGBANG concert following a music show voting controversy between the long-time group and EXO.
Threatening harm or to kill anyone is not a joke. In some locations, threatening a location with a bomb is considered a terrorist threat and can land someone in serious trouble not only with the police, but with the feds as well. Anyone who thinks this is humorous needs to mature quickly.
In this instance with BTS, one person ruined an event for everyone in attendance while a possibility that it could be ruined for other cities looms as well. It may be possible that other companies and artists may see this occurrence and feel the US isn't a safe place to perform, therefore potentially ending the K-Pop experience here.
None of us wants that, do we?
—-Joelle Halon
Related Articles