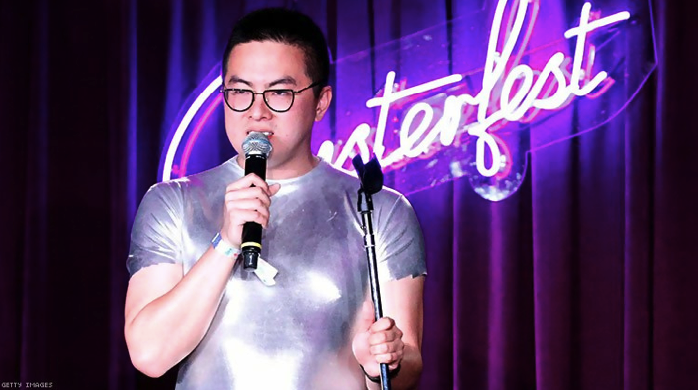 As Saturday Night Live (SNL) enters its 45th season, for the first time in the show's history, a comic of full-Asian descent will join the cast. In the past, SNL has had cast members of Asian descent, but these individuals were only partial Asian or Middle Eastern including Rob Schneider (quarter Filipino), Fred Armisen (quarter Korean), and Nasim Pedrad (Iranian).
Bowen Yang is one of three new recruits that will appear on the sketch comedy series when the new season starts. Yang, who is of Chinese heritage and part of the LGBTQA+ community, joined the show as a staff writer last season, but now he will be the first full East Asian cast member. In addition to SNL, Yang co-hosts the Podcast Las Culturistas and performs on the comedy club circuit. He also contributed his writing talent to the Golden Globes and appeared on Broad City. He's also known for his lip-sync videos posted on Twitter.
During SNL's 44th season, in addition to writing for the show, Yang did appear in a sketch where he played North Korean leader Kim Jong-un.
Yang will be joined by fellow newbies Shane Gillis and Chloe Fineman. Gillis is a controversial addition to the cast given his alleged racist past with joking about Chinese people, but NBC has yet to comment on the issue, but Gillis has apologized.
SNL's new season begins September 28, 2019. Are you looking forward to Yang's new role?
—-Olivia Murray
Related Articles