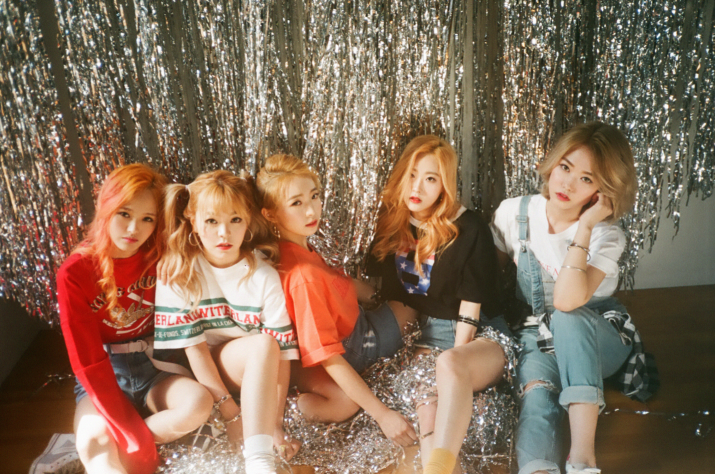 In mainstream K-Pop, band-type girl and co-ed groups are hard to come by with many of them failing to gain traction. Often, the groups end up disappearing into obscurity.
In 2017, Rolling Culture One's five-member girl group, Marmello—which is considered an Indie group despite their poppy sound— officially debuted with a band concept, a risky move in a competitive market that's not kind to band-concept girl groups. The members, guitarist Choi Yuna, bassist Kim Do Eun, leader, keyboardist, and synth Yoo Da Eun, drummer Jeon Ga Eun, and vocalist/maknae Kim Hyun A, face a tough climb in the K-Pop industry, but their talent shines in the three singles released since their debut: The debut track, "Puppet," their second single, "Can't Stop," and their March 2018 release, "Wake Me Up."
Marmello have been together since 2014. The girls attended high schools in the same district, which is where they are believed to have met (how the group formed has not been addressed by the members or their company at present). Between then and their debut, the quintet has performed at various gigs. The group has an undeniable spunk about them that make them charming, and their personalities shine in their tracks to help their music have a refreshing sound.
The group's name is derived from a flower that represents seduction as there is hope they can seduce the public with their unique sound and ability to be fluid in the Rock genre. Each member has a background in writing and producing, and all five girls attended college and majored in applied music.
On February 19, 2018, the girls revealed the name of their fan club after allowing their fans to vote for their fandom name. Out of the four choices—Quince, Marshmello, Garden, and Marmalade—Marmalade became the fandom name.
Marmello is a group on the rise, so we hope they get attention and continue to grow. Check out their discography so far and enjoy the music!
"Puppet"

"Can't Stop"

"Wake Me Up"

—-Joelle Halon
Related Articles