They have already racked up a variety of hits featuring guest vocalists from around the world. And on, March 19, Japanese production duo AmPm released 'Tokyo' – a new track that pays homage to the dance music of their roots, expressing their vision of their home city in the form of house music.
The song is being used as part of a campaign for CONVERSE×BILLY'S latest sneakers, ALL STAR J HI "SPARK", and already it is turning heads within the dance music scene. Although it can be broadly classified as house music, this full-fledged dance track also flirts with tech house and deep house along with AmPm's unmistakably Eastern vibe, resulting in a track that shows a new side of the two masked producers.
'Tokyo' is out on by Sushi Muzik, a Dutch label that was founded in Amsterdam in 2020. Despite being a new label, Sushi Muzik has already released tunes from dance music legends such as Norman Doray, Roland Clark, Kryder and Eddie Amador. As a European imprint named after a Japanese dish, it is a highly acclaimed label that is taking its own brand of dance music to the world.
'Tokyo' holds a special meaning for the members of AmPm, as they explain in the following comment.
Message from AmPm
"Up until now, we have released lots of tracks based on the dance music that we consider our roots, but we have never released a traditional dance track. Now, in our fourth year since our debut, we have taken on this new challenge.
"2020 was the start of an unimaginably long and difficult period. With everything that is going on, we felt that the word 'Tokyo' has taken on negative connotations both domestically and overseas. Since Tokyo is our home, this is a terribly sad situation for us. There is a limit to what we can do about it, but we hope that everyone can try to remember the positive perception they once had of Tokyo. We hope that you can even discover a new impression of Tokyo, and spread that impression to the world through dance music. Since it's a dance track without any lyrics, it might ignite your imagination. We hope it's not long before we can all get back to enjoying music at a loud volume again, and to dancing without concern. These are the things we thought about as we released 'Tokyo', so we'd love you to listen to it!"
In addition, AmPm will publish their previously unreleased track 'Intro' as a limited NFT, with an auction running March 19-31. NFTs (non-fungible tokens) are one-of-a-kind digital codes verified by blockchain technology, and each one is completely unique. The auction for 'Intro' will be held on a special site, and only the winning bidder will be able to receive and play the song. This is the first time a Japanese artist has sold their music as an NFT – look out for AmPm as they release 'Tokyo' in the real world and 'Intro' in the virtual one!
● Release information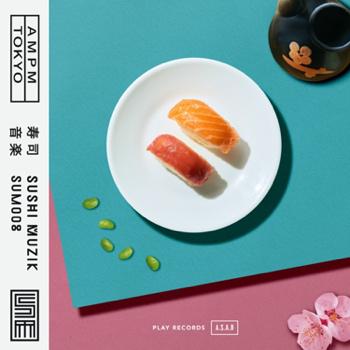 Title: 'Tokyo'
Release date: March 19, 2021
Listen:
https://ampm.lnk.to/tokyo_digi
For Asia: https://ampm.lnk.to/tokyo_digi
Title: 'Intro'
NFT auction from March 19, 2021
Only one NFT file available!
Auction begins March 19, 2021, at 00:00 JST, and ends March 31, 2021, at 00:00 JST.
Auction site: https://opensea.io/accounts/AmPm
Special site (Japanese text only): https://musicnft.herokuapp.com/
CryptoGames Inc Twitter account: https://twitter.com/CryptoGamesinc
● About AmPm
AmPm are a masked production duo from Japan who made a major global impact with their March 2017 debut track, 'Best Part of Us'. The same year, they were the only Japanese artist to perform at Spotify On Stage, a festival in Indonesia hosted by Spotify. In 2018, they dominated stages around the world, from Ultra Miami to shows in Korea and Japan, and even a headline concert in New York. In addition to releasing their own original music, AmPm have remixed tracks by popular overseas artists such as Afrojack, R3HAB and Nicky Romero, along with remixes for renowned Japanese artists like Gesu no Kiwami Otome ('Black Parade') and MONKEY MAJIK ('Tokyo Lights'), and production for Ken Hirai's track 'Holic'. Collaborating with a plethora of dance-music vocalists, they have released more than 20 tracks to date. In March 2019, they were recognized at the Digital Contents of the Year 2018 / 24th AMD Award, winning the Special Jury Award. In June 2019, they produced V6's 'All For You'. Today AmPm are one of Japan's most in-demand music production exports, with fans among artists and music lovers alike.
Download and streaming links: https://ampm.lnk.to/ampm
Official website: http://ampm.tokyo/
Instagram: https://www.instagram.com/ampm.tokyo/
Twitter: https://twitter.com/ampm_tokyo
Facebook: https://www.facebook.com/ampm.tokyo/
note (Japanese text only): https://note.com/ampm_tokyo
● About NFTs (non-fungible tokens)
NFT is a one-of-a-kind digital token that certifies a file as being completely unique. Introduced in 2018, the NFT format utilizes blockchain technology to allow the creation of a digital file that cannot be copied, but that can be freely enjoyed by the owner. NFTs are currently mainly used for blockchain-enabled videogames and crypto art, but the format is expected to become more widely used in future as more and more products become digitized. In the art world, sales of NFT works exceeding hundreds of thousands of dollars have become a hot topic overseas this year, making it a trend that is attracting widespread attention.
---
Images: https://www.dropbox.com/sh/di3n9lx9y1odcg7/AADWWFMMDcVOjSDmVIgwono0a?dl=0
Related Articles