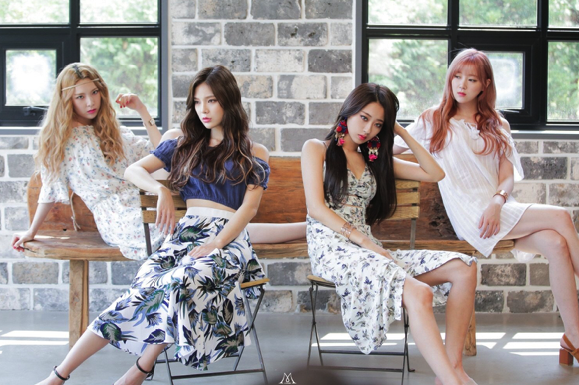 While they survived the seven-year curse, Star Empire Entertainment announced that after nine years together, 9Muses (sometimes stylized as Nine Muses) will disband following their fan-meet February 24 at Hansung University Nacsanguan.
On February 11, 2019, Star Empire released the following statement.
Hello, this is Star Empire.

We talked for a long time with the Nine Muses members because of various reasons such as their contract coming to an end, and we have ultimately decided to end their group promotions.

We apologize to MINE, who have been waiting for a while.

On February 14th, 2019 at noon KST, they will release their digital single 'REMEMBER'. On the 24th, they will have their last fan-meeting and Nine Muses will end all official promotions.

We thank the Nine Muses members for being the best artist since August 12, 2010, and MINE, for always supporting and loving Nine Muses.

The Nine Muses members will promote as solo artists in various places. Please show the Nine Muses members support in their new start.

Thank you.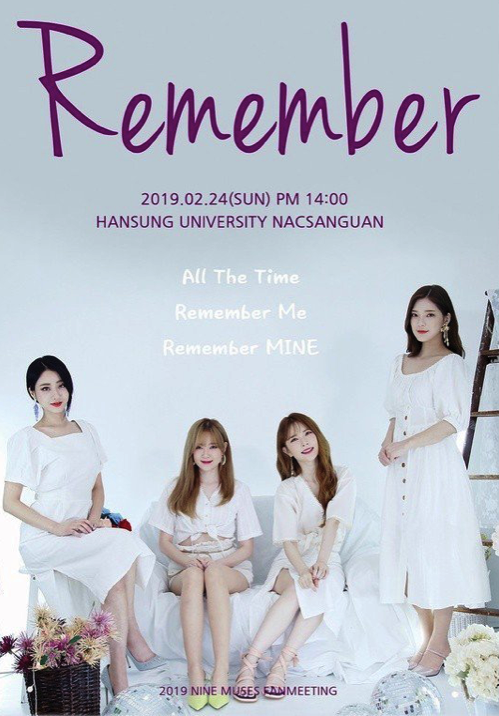 9Muses debuted August 12, 2010 with the single "No Playboy" and the single album Let's Have a Party. Then, the group consisted of members Jaekyung, Bini, Rana, Eunji, LeeSem, Sera, Euaerin, Minha, and Hyemi. Since then, the group underwent several lineup changes with Hyemi being the only original member left.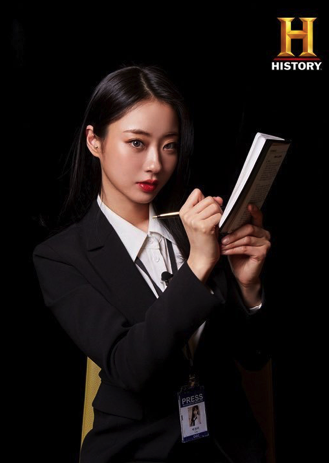 Since 2011, Hyuna, Gyeongree, Sungah, Sojin, and Keumjo also served time as group members; the final lineup consisted of Hyemi, Gyeongree, Sojin, and Keumjo (who made up the sub-unit Nine Muses A) while Sungah remained on hiatus.
Former leader Sera now promotes as a soloist under self-founded agency OCTO; Gyeongree released a solo track, "Blue Moon," in 2018. On February 12, 2019, it was announced Gyeongree signed on to appear on the History Channel's web-variety show On-Site Reporting No Matter What. The show is an entertainment show that covers recent news while using fact-based analysis.
During their tenure, 9Muses failed to win first place across Korea's music shows despite churning out hit songs like "Wild," "Gun," "Glue," "Hurt Locker," "Sleepless Night," and "Remember." They appeared on 2010's Prosecutor Princess OST and had collaboration tracks with several artists including Seo In-Young, ZE:A, MBLAQ, 2PM, Miss A, Dal*Shabet, B1A4, and Sistar. In 2016, they were named "Best Female Group" at the Korean Entertainment Awards.
In 2013, 9Muses were subject to the viral documentary Nine Muses of Star Empire (나인뮤지스 오브 스타 엠파이어) which followed the members' lives and training processes. The documentary also shined light on some of the abuses potential idols experience as the film showed Star Empire CEO Shin Juhak smacking the members and emotionally abusing them. The film created a stir and caused K-Pop fans to call for changes in the industry even though change has appeared to have not taken place as abuses still occur in the industry.
9Muses close out their career with 15 released singles, one studio album, two single albums, and six extended plays. On February 14, 2019, their final digital single, "REMEMBER" will be released.
We will certainly miss 9Muses and their contributions to the K-Pop scene. What was your favorite 9Muses song?
—-Joelle Halon
Related Articles