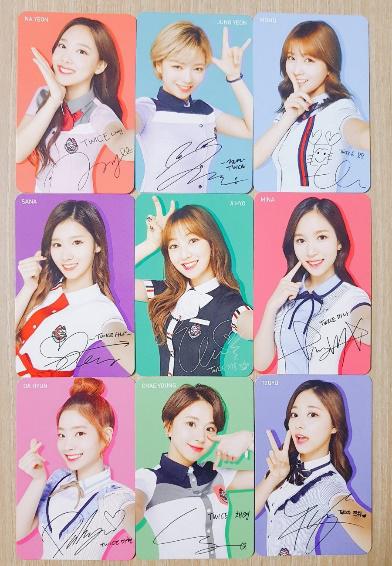 Eye-catching Hair Colors & Costumes
Whenever you watch some music show clips or fancams of your favorite group, what comes to your eyes first would be their rainbow hair colors. You can find entire spectrum of hair colors, latest trend of hairstyles on K-pop live stages. Sometimes You can even notice their hair colors changing in just a week – on music show stages right next weekend! Hairstyles and colors are arranged by stylists in the best way that matches their fashion on stage or album concept.
K-pop idols take extra care of their performance wear, sometimes Ent agencies get the costumes sponsored by world-famous brands. Costumes for each member can reach to thousands; one K-pop boy group ZE:A is said to have spent over $200,000 on nine members' performance wears for only one stage! Their influence on fashion industry, however, is much bigger: high-end performance wears soon become a leading fashion trend in Korea and worldwide.
Idol Albums with Photo Cards
What makes K-pop culture special is that, the more you fall for a group, you find more features to have fun with. There are countless attractions ready to ensure quality fan life, one of the items is photo card of each member included randomly in new K-pop albums. Offered exclusively for new album consumers, photo cards have members on cute costumes, in different style, even special motion effects through photo cards.
Even when you get access to original song from music streaming websites, K-pop fans still purchase a pile of albums just to get their favorite member's photo card. Once you find collectors gathering photo cards of all the members, you'll get to understand how this system enhances album sales volume & loyalty of their fanbase.
100% Synched Choreography
K-Ent agencies have different concepts and styles on making their own idol groups, but they all have strict trainee incubation systems: vocal/dance training, camera tests, training for how to react on reality shows, and even foreign language courses. One of the results is dance choreography with perfect sync: K-pop idols are highly expected to make "Sharp angles" on dance formation and choreography – as they are trained to synchronize the angles of arms, legs and even fingertips in each movement with other members. Their pursuit of accuracy in choreography is also revealed from cross-edited live stage videos showing 100% sync throughout many different stages.
Dorm Living System
From trainee period, K-pop idols live in a dormitory provided by their agency with all the members and their manager. Main reason for corporate living comes from their busy schedule, but Idol groups are also expected to raise companionship, coherence and cohesion in a communal setting. Dorm life lasts for 5 years in average, from teen to mid-20s of members. Some Idol groups take reality shows in their dormitory, showing private times and friendship among the members. Reality shows and video clips behind the scenes are popular among K-pop fans who are willing to find their idols being natural. But dorm living system has its shadows as it may not allow the Idol members much privacy for themselves.
Group Roles & Member Chemistry
Chemistry between members is another important aspect to win K-pop fans' loyalty and affection. Fans love to see members in good terms with each other, both in public and private area. Whenever K-pop fans spot out a member staying close with another, nicknames are given for best friends, or a couple of members whose images and characters are in a best match.
There are many ways to create chemistry upon members, but basic environment to make connection is already 'set' by fixing their roles in a group. Group roles can be determined by member positions such as vocal / visual / dancer / rapper, but so many more roles can be newly created according to ages, nationality, character and habits. Maknae and hyung (male) or unnie (female) according to their ages. Group roles can change over time, helping a group shape its identity & create better chemistry.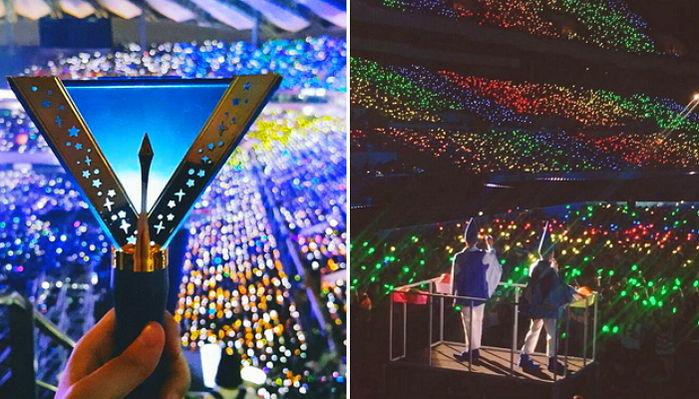 Concert Materials: Fanchants & Lightsticks
Before you go to live concerts of your favorite K-pop group, you're definitely not going to the hall with empty hands; for the best fan experience, you need items showing your affection as a fan. To name a few basic concert materials, it'd be fanchants and lightsticks.
Fan communities started to create unified fanchants to shout at music show live broadcast and at concerts, with names of all the members and witty cheering messages. Most fanchants are easy to learn, with repeating sounds and catchy phrases. Recently agencies create Fanchants by themselves, uploading them on official YouTube channels so that fans can memorize & chant at the live show.
Meanwhile, bringing fan club lightstick is a must for K-pop stage audiences. Order-made with unique color, shape, light and effects fixed for each group, lightsticks are used at concerts and music show live stages by fan clubs. with millions of audiences shaking a single unified light, the energy on stage is caught on fire: light of each stick is controlled by central system so that stage artists can create the best flow of light.
Give us your opinion of other "groundbreaking aspects of K-pop" you know about in the comment section below.
—-Uinn Peng
Related Articles