Everyone has their favorite idol bias and we enjoy seeing them perform, staying well and enjoying free time, but there is a different idol that we are learning about that is all the rage and may even have their very own Instagram accounts.  We are speaking about the loveable pups that are always there to bring laughter, joy and peace to the idols that work hard for their careers.  Let's find out a little more about some of those famous pups.
1. Taehyung & Yeontan
I'm sure most of you know of Kim Taehyung, member of BTS, but his pup is almost as famous. Taehyung's Pomeranian has gained a lot of attention from fans for his adorable looks and cute interactions with the members. The puppy was first shown on Jin's birthday vlive, but he was formally introduced to the public in December of 2017, with a tweet saying the pup's name was Yeontan, which means coal in Korean. In the tweet Taehyung also said "우리집 새식구", meaning "my family." Fans speculate Yeontan's birthday is the 6th or 7th of September 2017, which would make him 2 years old at the time of this article. Yeontan used to live with BTS, but had to move in with Taehyung's parents due to BTS' busy schedules.

2. Chungha & Bambi
This former I.O.I member has stolen millions of hearts, but so has her dog! Most people got to know Chungha's dog, Bambi, through the special dog episode of weekly idol. Several idols brought their pet dogs in for a special episode of the show, one of those idols was Chungha. She has since shown and talked about Bambi several times, but the Weekly Idol episode was one of her first big public appearances. Bambi's birthday has not been specified, but in the episode, which was filmed in late 2017 and released in early 2018, Chungha stated she was 4 years old. That would make the dog around 6 years old at the time of writing this article. In the weekly idol episode. Chungha also explained the dog was named Bambi because Chungha's mum kept calling her that due to her long legs, which made her look like a deer. Bambi gave birth to 3 puppies in 2017, Dakgol, Bamtol and Dodo. Soon after, one of them, Bamtol, was adopted by Ryu Jina, Chungha's manager.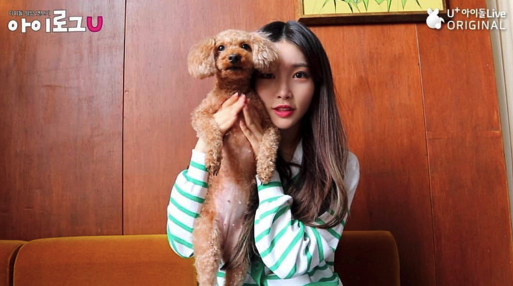 3. Jooheon & Sanche
Most people know of Minhyuk's dog because of the Weekly Idol dog special, but there's another Monsta X member with a pet dog. Sanche is Jooheon's 6-year-old family dog, who he's brought to fansigns and vlives. When Sanche was first introduced, fans believed he was actually Kihyun's dog, as the pup would follow Kihyun around more than his actual owner. Sanche lives with Jooheon's parents and he has stated that, as his mum has no daughter, she loves to dress Sanche up in dresses and cute clothes.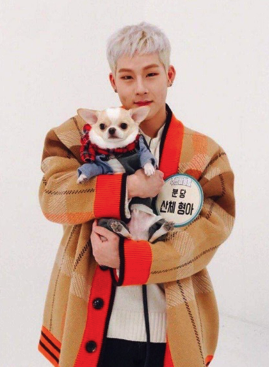 4.  Jennie – Kai and Kuma
Blackpink are known for having many pets, as each member has at least one. Jennie's dogs are two of the most known pets in the fandom though. Kai, a cocker spaniel, and Kuma, a Pomeranian, have appeared in numerous vlives and selcas, one of them even sparking a meme in the fandom. In one of the vlives featuring the pups, Lisa began singing their hit song 'Boombayah', but replaced the chorus with "Kumaya", which made the fan's hearts burst. None of their diets have been specified, but Jennie has stated that Kuma absolutely adores sweet potatoes. Kuma's birthday is March 24th and he is currently 2 years old, while Kai's birthday has not been specified, but fans guess he is around 6. Both dogs get along well, as they grew up playing together, and now live with Jennie's family. They're both also very close to Dalgom, Jisoo's dog.

5. Amber & JackJack
Many of you may know of JackJack and Tuna, Amber's dog and cat. They have their own Instagram (@jackjackandtuna) and Amber mentions them a lot. JackJack, the dog, has appeared on her youtube channel several times and fans are quite familiar with him. He's a mixed dog, 50% Chihuahua 25% Pomeranian, 12.5% Pekingese and 12.5% breed groups (herding, Asian, companion and sporting.) His birthday is July 6th, though the year of birth is unknown and she has never stated his age. He is Amber's second dog, Gongju, the first one, sadly passed away in 2015.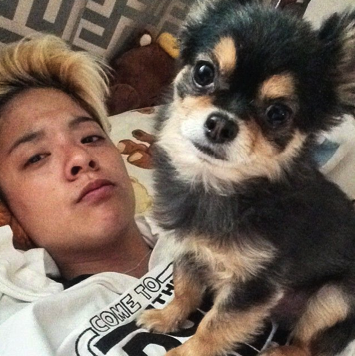 6. B.A.P 
Various B.A.P members have pet dogs, more specifically, Daehyun, Youngguk and Zelo. All their pups have personal Instagrams, Yongguk's poodle, Tigger, (@bangteezy). Daehyun's pup, Kanji, (@gan___ji) and Zelo's pup, Mochii, (@bymochimato). Mochii is a Pomeranian, born December 1st 2015. Tigger was born on the 16th of April 2014, making him 5 years old at the time of writing this. Kanji's birthday, but his posts go back to early 2018, making him at least 1 year old. Zelo talks a lot about his dog, so we know a lot of cute random facts about Mochii and Zelo's journey with pets. Mochii loves to chew on things, he even destroyed Zelo's bracelet and book. He may chew a lot, but he loves a Pikachu blanket he sleeps on whenever he can. We also know that when someone is speaking to him, Mochii will tilt his head, as if trying to understand. Not much information about the other pups is available, but they all update their Instagrams every few weeks. 

7. Ashley 
Ashley's puppy, Kiwi, is another Instagram pup. Ashley updates pictures of her pup every few weeks, they're mostly quirky and cute, making the dog somewhat of a meme. Kiwi is a half Cavalier King Charles Spaniel, half Shih Tzu female pup. Her birthday hasn't been stated, but and speculate she's a few years old. Just like Mochii, one of Kiwi's favorite toys is Pikachu themed and just like Sanche, she's constantly being dressed up by Ashley. On her Instagram (@kiwithepiggi), you can see various pictures of the pup in quirky hats and cute outfits.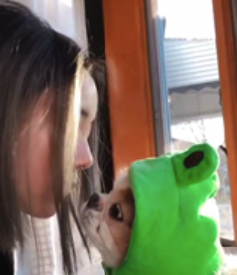 6. Harim – Toto & Momo
All the previous idols have been singers and rappers from world famous K-pop groups, but not many people know of Harim and his band. Harim is the lead singer of Movning, a trio under Sugar Records Ent. He's also the proud owner of two dogs, named Toto and Momo. Toto is a playful Schnauzer, while Momo is a West Highland White Terrier. They both appear on his Instagram (@chicken_harim) a lot and they seem to have a great relationship with each other. Both pups were abandoned at a young age and Harim, wanting to give them a good home, adopted them both. When asked, he stated that their diet consist solely of fodder, which is dried hay or straw.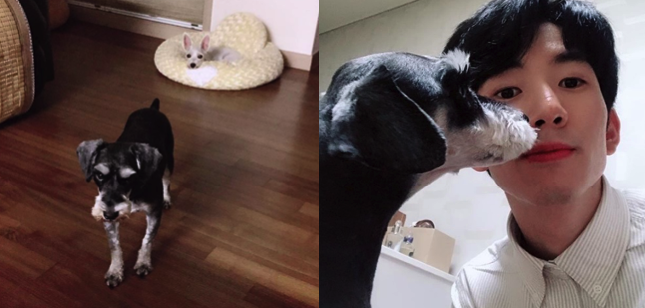 —-Valeria Movnings
Related Articles