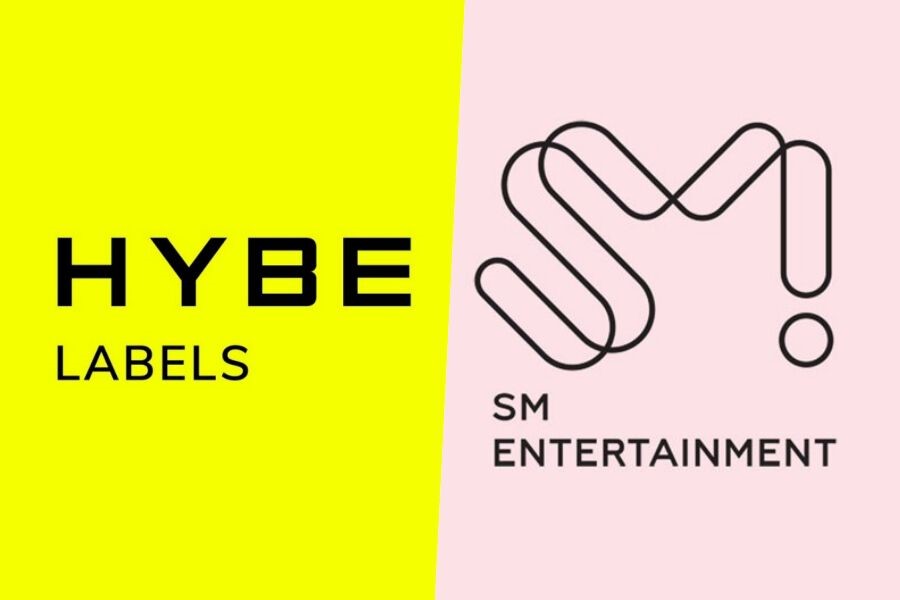 One of the biggest K-Pop stories recently surrounds what's going on between HYBE Entertainment, Kakao Entertainment, and SM Entertainment and Lee Soo-man, SM's former CEO. With news on the subject breaking every day, it's hard to keep up with the information and whether HYBE's considered a hostile takeover of SM Entertainment and/or if there's family and company drama brewing.  With so much going on, here's a breakdown of the SM Entertainment, Kakao, and HYBE Entertainment story, which actually begins in 1997 until present.
1997-2023: Like Planning Company, Changes at SM Entertainment. HYBE Purchases shares
Daum and Dispatch provided a timeline of Lee Soo-man's Like Planning Company. This company is relevant to the current events, as well as the other changes that took place at SM Entertainment over the years.
1997: Lee Soo-man founded Like Planning. The company provides consulting and production services for SM artists and albums. The company, in turn, received royalties from SM Entertainment. According to Daum and Dispatch, Like Planning "received 24 billion won per year from SM, which is one-third of SM's annual operating profit" as of 2021.
1999: Lee Soo-man planned for SM Entertainment to be listed on KOSDAQ. With 50 million won in capital, SM fell below the 1 billion won required to be listed. Lee Soo-man then took 900 million won from SM Entertainment's bank account as well as 250 million won from SM Enterprise's bank account and placed the money into Like Planning's funds to push the company over the 1 billion won threshold. However, this action placed Lee Soo-man under watch for embezzlement and concealed payments.
2003-2004: Lee Soo-man landed on Interpol's wanted list for embezzling over one billion won from SM Entertainment "to acquire stocks" while "falsifying the company's capital increase for its listing on KOSDAQ." Lee Soo-man left South Korea, but he eventually returned. When he returned, he was sentenced to two years in prison and three years of probation. Lee Soo-man received a delay in his prison term due to returning the funds back into the company account and the "capital increase taking place."
2007: South Korean president Roh Moo-Hyun pardoned Lee Soo-man, absolving him of any punishment, allowing Lee Soo-man to be part of the entertainment industry again despite criticism received from others in the industry and Korea's legal body.
2010: Lee Soo-man resigned as SM's director and CEO. He increased SM Entertainment's stakes when AVEX, one of Japan's main entertainment companies, sold their SM shares. Lee Soo-man then focused on overseas expansion and wanted the company's artists and performers to expand into those markets. Lee Soo-man shifted his focus to a management and artist development role.
2019: KB Asset Management wanted Like Planning to merge with SM Entertainment. KB Asset Management, which was SM's third largest shareholder at the time, claimed "SM paid 46% of its operating profits as royalties to Like Planning." KB Asset Management wanted Lee Soo-man to consider the following:

Merge SM Entertainment with Like Planning
Remove the non-entertainment planning business
Implement dividends through an open shareholder letter
Lee Soo-man rejected all three of the requests by stating none of the options were viable since Like Planning was not a corporation.
2019: SM Entertainment announced they will pay shareholder dividends for the first time since going public in 2000. YG Entertainment (2015) and JYP Entertainment (2018) have been paying dividends to their shareholders for years at this point. According to The Korea Herald, investors called for dividends after "consequently arguing that Lee received at least 10 billion won more than appropriate per year through Like Agency. They also called the setup illegal, saying it's a form of insider trading."
2020: Nam Soyoung & Kim Youngmin were removed from their CEO positions and replaced by Lee Sung Soo and Tak Young-jun. Both Lee and Tak worked for SM Entertainment for over 20 years, with Tak working as one of Super Junior's managers and Lee originally working as a fansite checker before moving to music production. Nam and Kim were moved to other positions while SM Entertainment focused on global growth.
March-August 2022: Kwak Jun-Ho's named as SM auditor. Align Partners Asset Management appointed Kwak to the position and "sent a shareholder letter to SM asking for termination of the production contract with Like Planning." SM Entertainment did not reply to the letter, but appointing an auditor alluded to the possibility Like Planning may close. In August, Align Partners Asset Management requested board minutes from SM Entertainment while sending "an open letter to improve the service contract issue with Like Planning."
October 2022: SM Entertainment announced Like Planning's contract termination set for December 31, 2022. Align Partners Asset Management wanted SM Entertainment to establish a "compensation committee, announce future production plans, and form the majority of the board of directors with outside directors."
January 2023: SM Entertainment accepts Align Partners Asset Management's "multi-producing system" and governance improvement proposal. Align Partners Asset Management's CEO Lee Chang-hwan joins the SM Entertainment board as a non-executive director and will provide guidance for appointing outside director candidates to be appointed during 2023's shareholder meetings. In return, SM Entertainment set up a compensation committee promising "a policy of returning at least 20% of separate net profit to shareholders for the next three years." Align Partners Asset Management "withdrew its claim to file a shareholder representative lawsuit."
February 1-5, 2023: SM Entertainment released its 3.0 vision plan, including the "end of Lee Soo-man's production." SM Entertainment CEOs Lee Sung-soo and Tak Young-jun plan to usher in the company's new era. Kim Min-jong, actor and a former outside director of an SM subsidiary, messaged SM Entertainment employees, claiming "CEOs [Lee and Tak] made a unilateral announcement without consulting the producer, saying that 'SM needs Lee Soo-man's sense' and urging respect for Lee Soo-man's contribution to SM's founding and development."
February 7, 2023: Kakao announced it secured an over 9% stake in SM Entertainment, making it the company's second largest shareholder. Kakao became the largest stakeholder by "acquiring new stocks issued by SM and convertible bonds." Initially, Kakao was set to acquire a stake in SM Entertainment in 2021, but withdrew from the acquisition October 2021. In March 2022, Kakao wanted to acquire nearly 19% in SM shares, or 1 trillion won. However, the deal hit a snag.
February 9-10, 2023: HYBE purchases 14.8% of Lee Soo-man's SM Entertainment shares. Back in 2021, HYBE, as well as CJ E&M, and Kakao were competing to acquire SM Entertainment shares.
1. SM Entertainment founder, Lee Soo-man.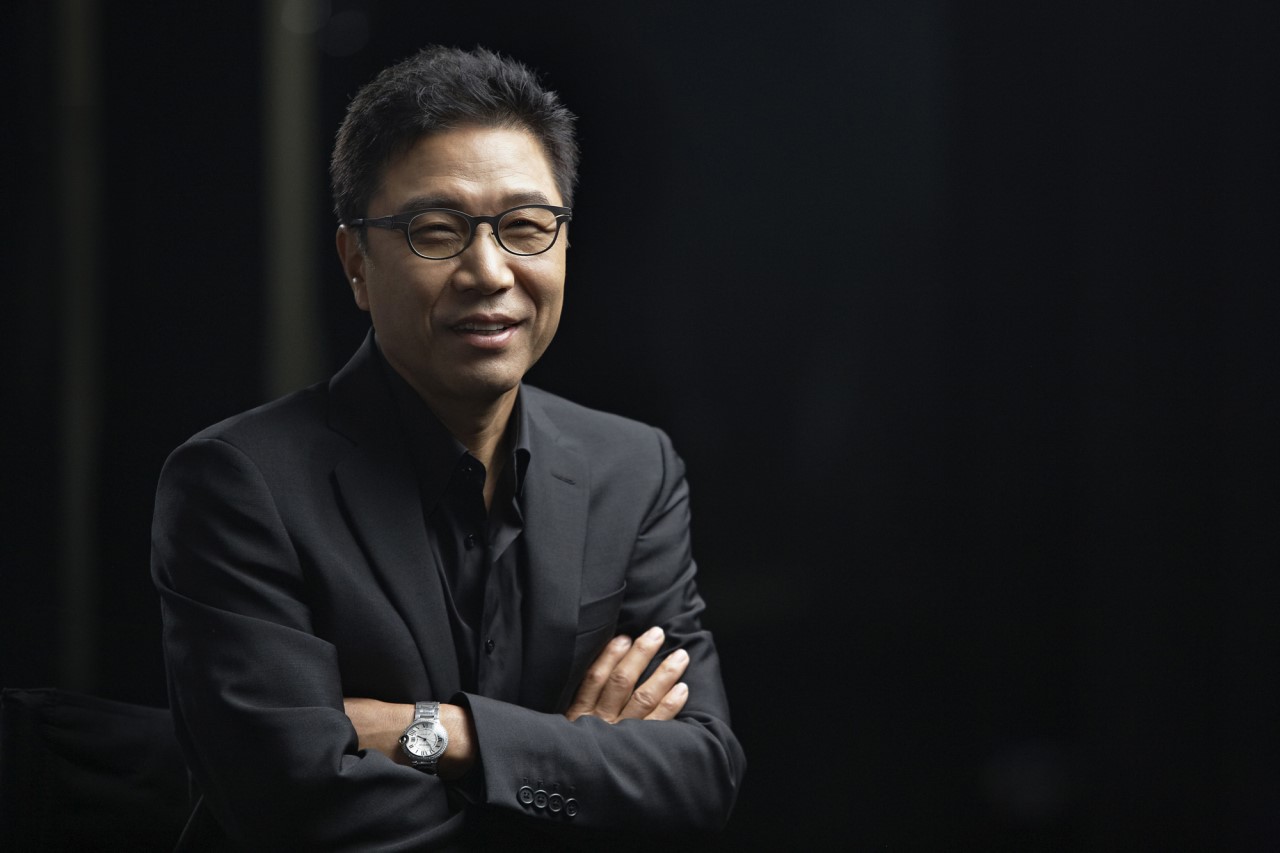 SM 3.0, Cutting Ties with Lee Soo-man
Prior to Kakao and HYBE purchasing shares, SM Entertainment's CEO Lee Sung-su (Lee Soo-man's nephew) and COO Tak Young-jun announced SM Entertainment 3.0. Within the vision, the company intended to cut ties with Lee Soo-man and develop a multi-label system.
"We have realized the limits to producing and managing the intellectual property [IP] that meets the demands of the market and fans," Lee Sung-su said. "The biggest changes that will come with the new system is the establishment of multi-production centers, multi labels and a subsidiary specializing in publishing music."
Lee Sung-su continued, "Under the new system, SM artists will be placed under five production centers that will be given their own independent status. An additional production center will be established to oversee the creation and management of virtual human avatars such as Naevis."
"Our focus with SM 3.0 is on marking ourselves down as a global entertainment company centering on the fans and shareholders," said Tak Young-jun.  "We promise to communicate more actively with the fans and shareholders with SM 3.0, starting with our multi-production and label system."
With their 3.0 plan and cutting ties with Lee Soo-man, Lee Sung-su predicts SM Entertainment's "production process will increase revenue by 134 percent by 2025."
"By 2025, our annual sales goal will be 1.8 trillion KRW (~ $1.4 billion USD), and our annual operating profit goal will be 500 billion KRW (~ $384.7 million USD). Due to issues of a power-based internal management structure, SM Entertainment's competitive value in the market has thus far been underrated. However, if we can fulfill the 'SM 3.0' initiative by 2025, we have no doubt that such figures will be very much within reach," the SM 3.0: Global Expansion & Investment Strategy revealed.
Lee Sung-su and Tak Young-jun shared more information about SM's expansion in a video posted on YouTube February 22.
Kakao, HYBE Purchase Shares Following 3.0 Announcement
After the announcement of SM Entertainment 3.0, February 9, several media outlets reported HYBE intended to purchase SM Entertainment shares.
"We are continuing to review matters related to the acquisition of shares, including a tender offer regarding SM's shares. At the time of this statement, nothing has currently been confirmed," HYBE said in a statement released at the time. "In the future, we will re-disclose when specific details regarding this are confirmed, or within a month."
On February 10, it was confirmed that HYBE did purchase SM Entertainment shares based on a deal with Lee Soo-man. Prior to HYBE's purchase, Lee Soo-man had the largest SM Entertainment shares at 18.46 percent, making them the largest shareholder.
The move came after Kakao became the second-largest shareholder. Lee Soo-man objected to the Kakao deal, calling it "illegal," and has since taken legal action.
On February 22, SM Entertainment outlined their reasoning for their partnership with Kakao.
As Soompi outlines, the following reasoning was shared:
SM and Kakao partnership is closely aligns with the implementation of SM 3.0
Kakao is the best partner to address the SM 3.0 Multi-Production strategies
Profitability of SM's intellectual property will increase, thus leveraging the Kakao platform.
SM will establish a virtuous cycle between intellectual property and platforms with Kakao to achieve the global expansion plan
New SM Culture Universe (SMCU) will be built based on Kakao's technology such as Connectivity Tech, AI (artificial intelligence), and Metaverse
In turn, HYBE also posted an open letter to fans on Twitter discussing their acquisition of Lee Soo-man's shares.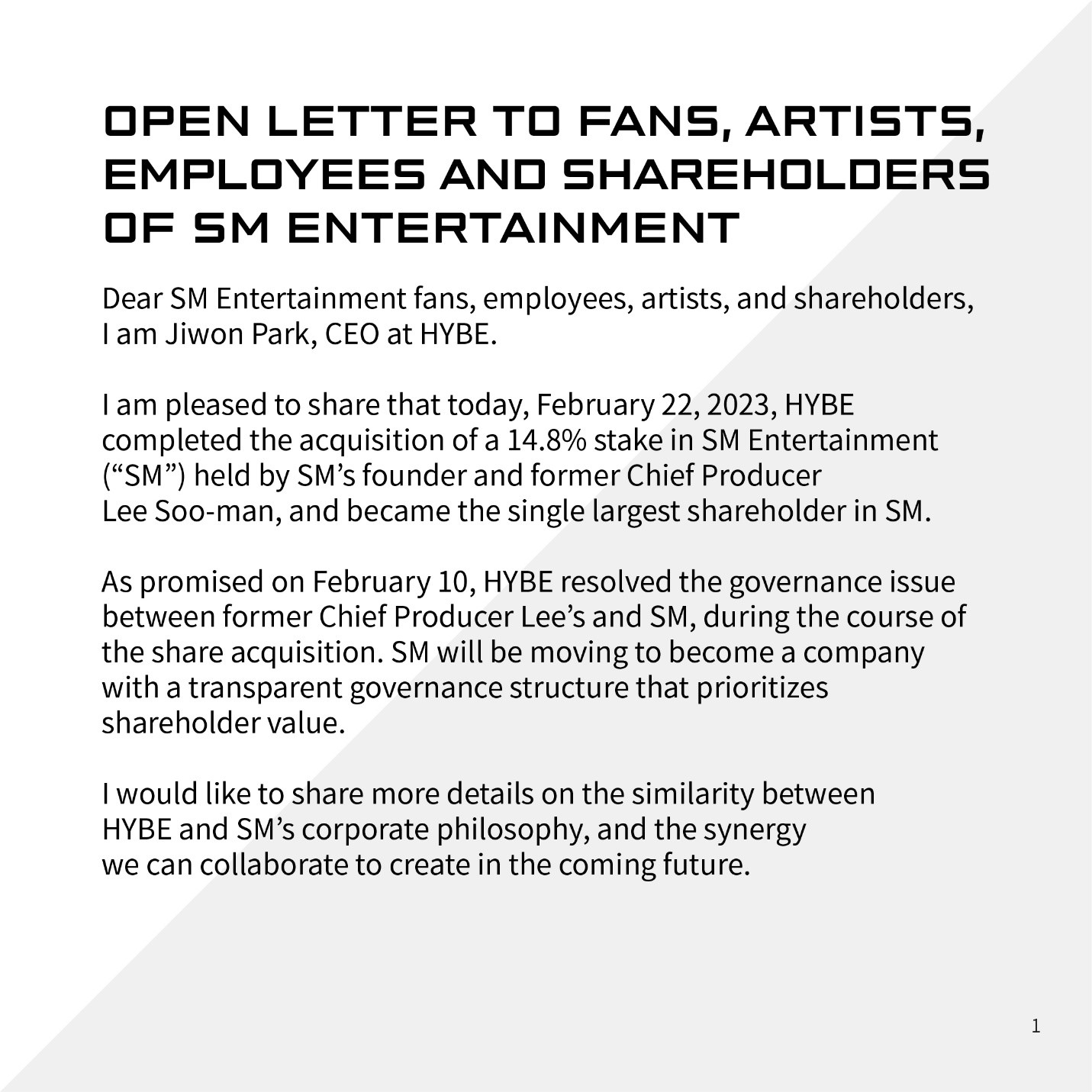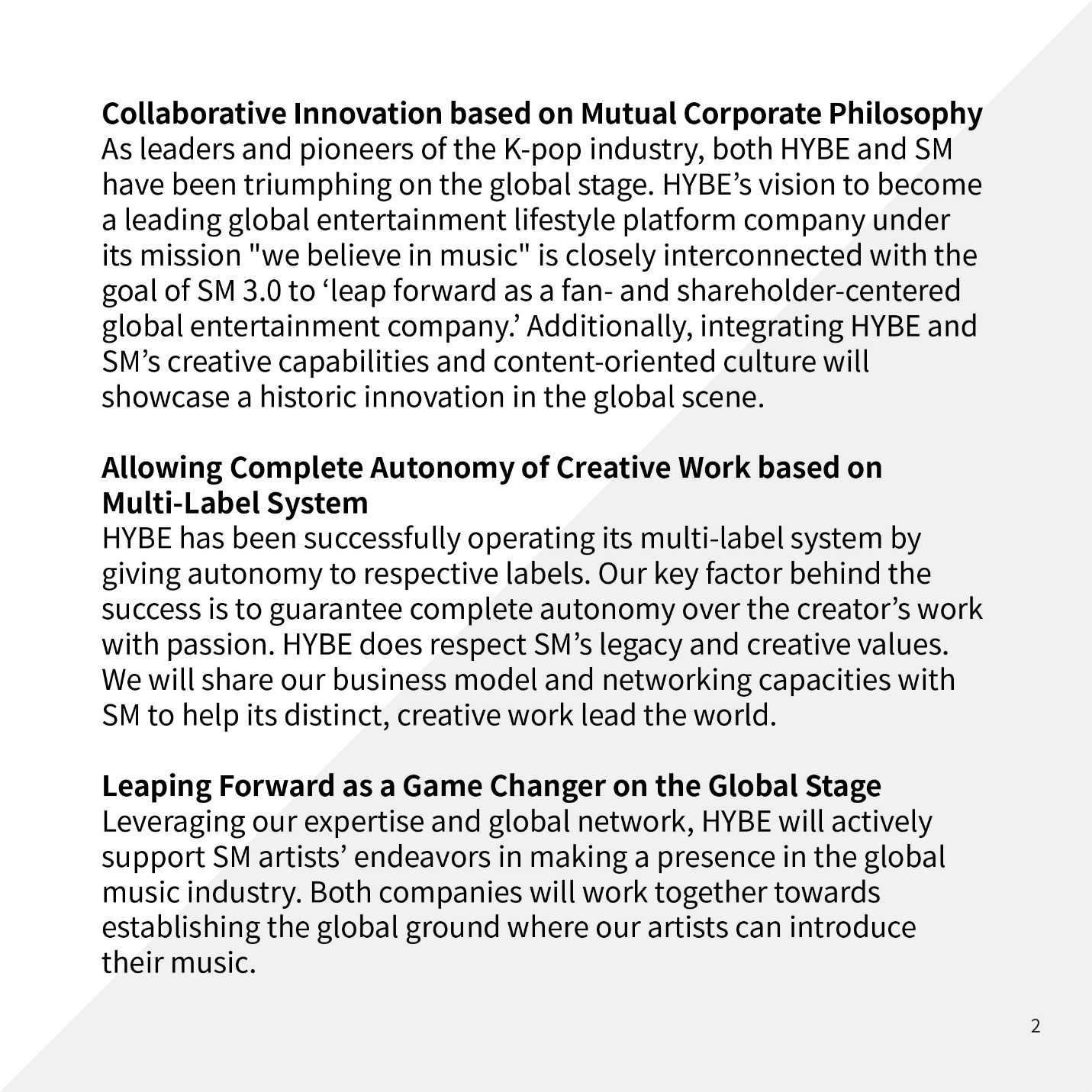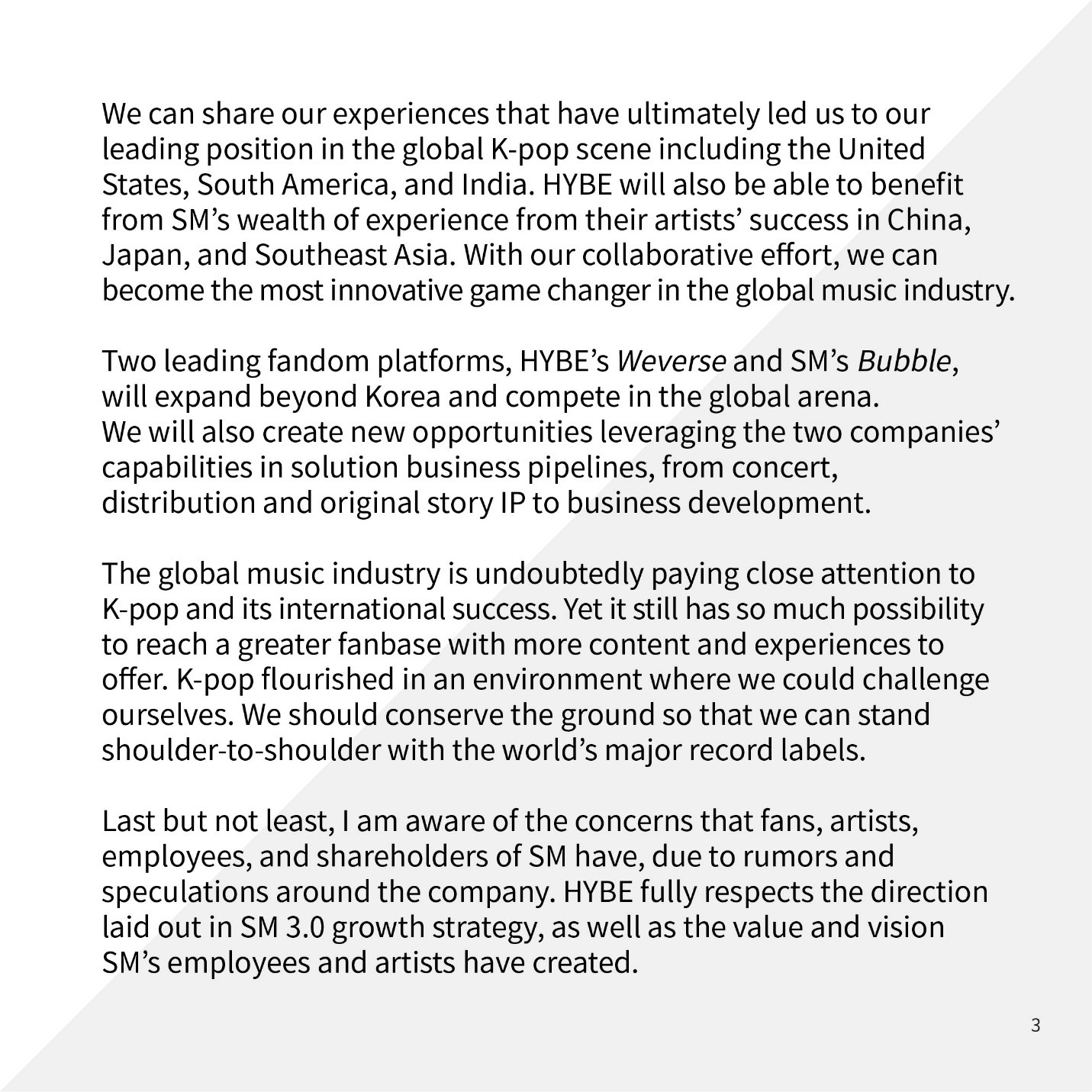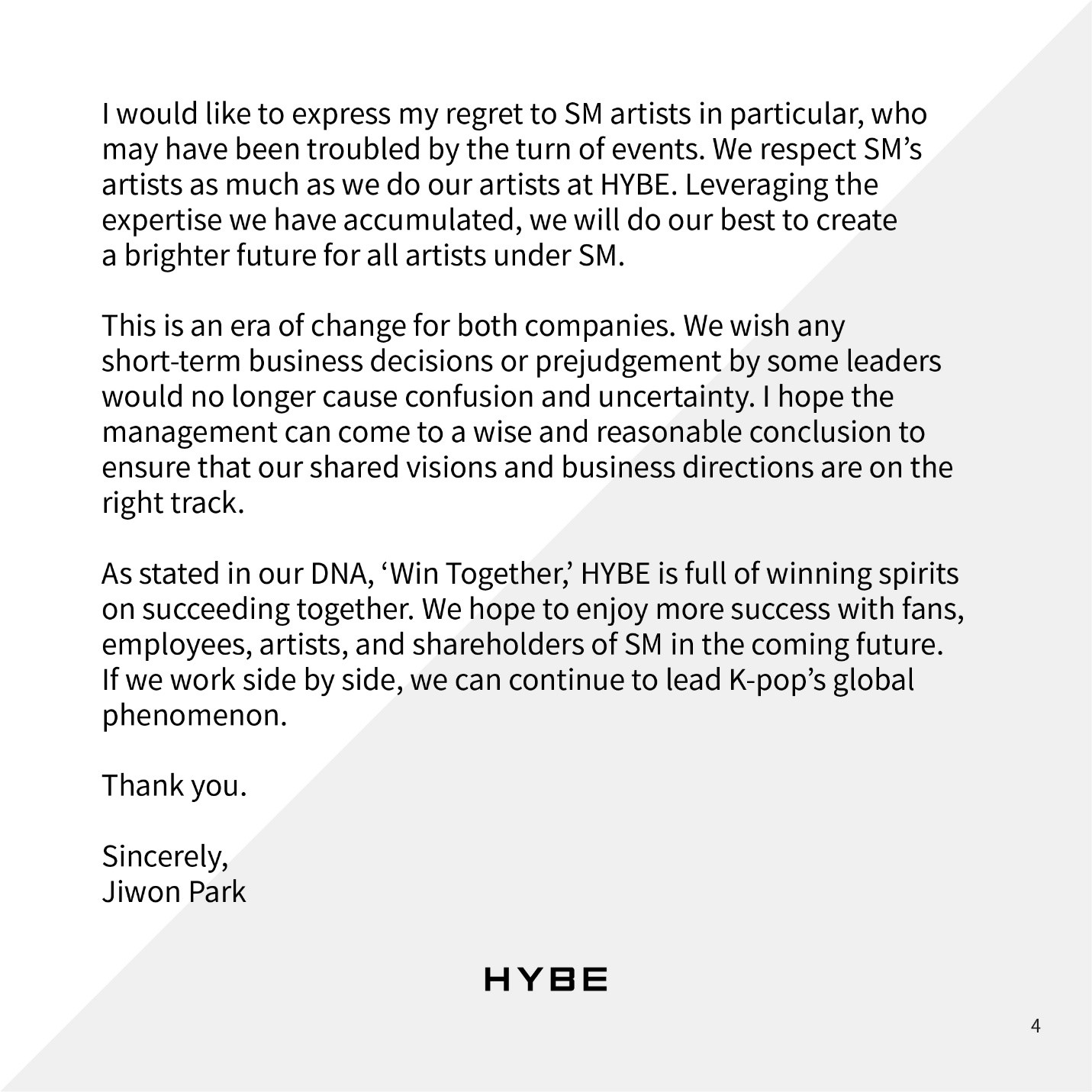 SM Calls HYBE's Move Hostile Takeover
While the share purchasing by HYBE may sound positive in a marketing sense, SM Entertainment CEOs view the move as a "hostile takeover." HYBE disputed this claim at the time, stating they were willing to work with SM Entertainment and Kakao. Since, HYBE and SM Entertainment have released a string of statements responding to one another as well as some allegations against Lee Soo-man.
In a 15-minute video published February 20, SM Entertainment CFO Jang Cheol-hyuk sounded alarmed, claiming HYBE "plans to acquire a 40% stake through a 'tender offer' that is currently underway." With SM Entertainment and HYBE are two of the leading music companies in South Korea, Jang fears a monopoly could take place.
"If the two companies are integrated, the combined entity would create a monopoly by taking 66% of the total market revenue," Jang said. "Furthermore, as of Q3 2022, the two companies' combined profits from albums/digital music account for 70% of the market. Regarding concert/performance profit, the two companies took up as much as 89%. As a result of an integration, over 60% (64%) of the top-ranking artists by album sales would be under a single company, undermining the diversity of the K-pop market."
Jang continued, "Ultimately, K-pop fans will be the ones that will be most affected by the monopoly. SM puts reasonable prices to concert tickets to allow broader scope of fans to enjoy cultural performances. Meanwhile, HYBE has taken advantage of its position in the K-pop market to almost double the concert ticket prices."
HYBE's Warning for Legal Action
While HYBE initially said they were willing to work with Kakao, on February 24, the company plans to "take all necessary legal measures against a recent contract that SM struck with its alliance partner Kakao Entertainment" in defiance the company's [HYBE] takeover bid.
The change came as Kakao's contract with SM Entertainment came to light. The contract between SM Entertainment and Kakao states Kakao has the rights to publish SM Entertainment's albums and music as well as the right to purchase more shares.
"After learning of what is in the business contract, we were both surprised and concerned," HYBE said in a statement. "A review is under way on legal problems contained in this contract. According to its result, we will take all necessary legal measures, both civil and criminal."
HYBE further claims Kakao's ability to purchase more shares will hurt ordinary shareholders. SM Entertainment, however, states HYBE is "maliciously misinterpreting" the contract.
"We don't plan to raise investment by issuing new shares through a third-party allotment," SM said in a statement. "As [the company] nears its limit of issuing new shares, it is legally impossible to issue new shares without changing the articles of association."
HYBE continues by stating the SM-Kakao deal could hurt SM Entertainment's "chance of attracting 'new strategic investors' and make it easier for Kakao 'to seize control of SM's management rights.'"
In relation to SM Entertainment's expansion into other markets, HYBE also raised concerns about Kakao controlling SM's artists activities in the Americas, ticket sales, and fan meets as well as potentially taking away artists' abilities to negotiate.
SM Employees on Edge
With all the changes afoot, SM Entertainment employees are understandably on edge. On the anonymous forum Blind, employees have expressed their concerns.
"I'd been filled with pride while working here, but now that's crumbled down in the blink of an eye," one employee said.
"I'm scared that people might stop seeing us as an independent entertainment company," said another.
208 SM employees also released a joint statement opposing HYBE's share acquisition. The statement reads:
Once former chief producer Lee Soo Man was in danger of having his illegal tax evading actions unveiled, he sold his shares to a competitor company that he used to speak ill of and ran away.

Us members of SM have been completely used in former chief producer Lee Soo Man's illegal acts including fraudulent actions for his personal interests and tax evasion. We cannot be used by HYBE's illegality and expediency again even before we begin the SM 3.0 project.

Thus, us 208 regular employees of SM Entertainment are releasing the following statement as we cannot hold our anger about former chief producer Lee Soo Man and HYBE's unlawful collusion.

We will protect K-pop's cultural diversity and SM's distinct identity. We declare that SM's culture should not be subordinated to HYBE's capital.
We actively support and stand by CEO Lee Sung Su and COO Tak Young Joon's self-reflection and their plans for SM 3.0 multi-producing. We also demand stronger protection for our artists and fans so they are not harmed.
We oppose HYBE's hostile M&A and their expedient attempt to enter our board of directors. We will resist HYBE's attempt to take over SM in an abnormal manner.

"Lee Soo Man deserted SM and Pink Blood and ran away, but we will remain at Seoul Forest and protect SM and Pink Blood."

Collective of 208 SM Entertainment regular employees
However, HYBE CEO Park Ji-won said, "We respect SM's legacy. We will ensure SM's independence. HYBE has already proved [the efficacy] of the multi-label system."
The SM-HYBE-Kakao share drama is still ongoing and developing daily. As the story develops, stay tuned for updates!
—-Olivia Murray
#HYBE #HYBELabels #SM #SMEntertainment #Kakao #LeeSungSuCEO #TakYoungJoonCOO #CFOJangCheolhyuk #monopoly #kpop #Korean #SouthKorea #kpopindustry #LeeSooMan #purchasestockshares #SM30 #takeoverofSMEntertainment #kcrush #kcrushnews #SMHybeKakao #multilabelsystem #NamSoyoung #KimYoungmin #kcrushamerica #Weverse #SMBubble #updates #globalkpopscene
Related Articles