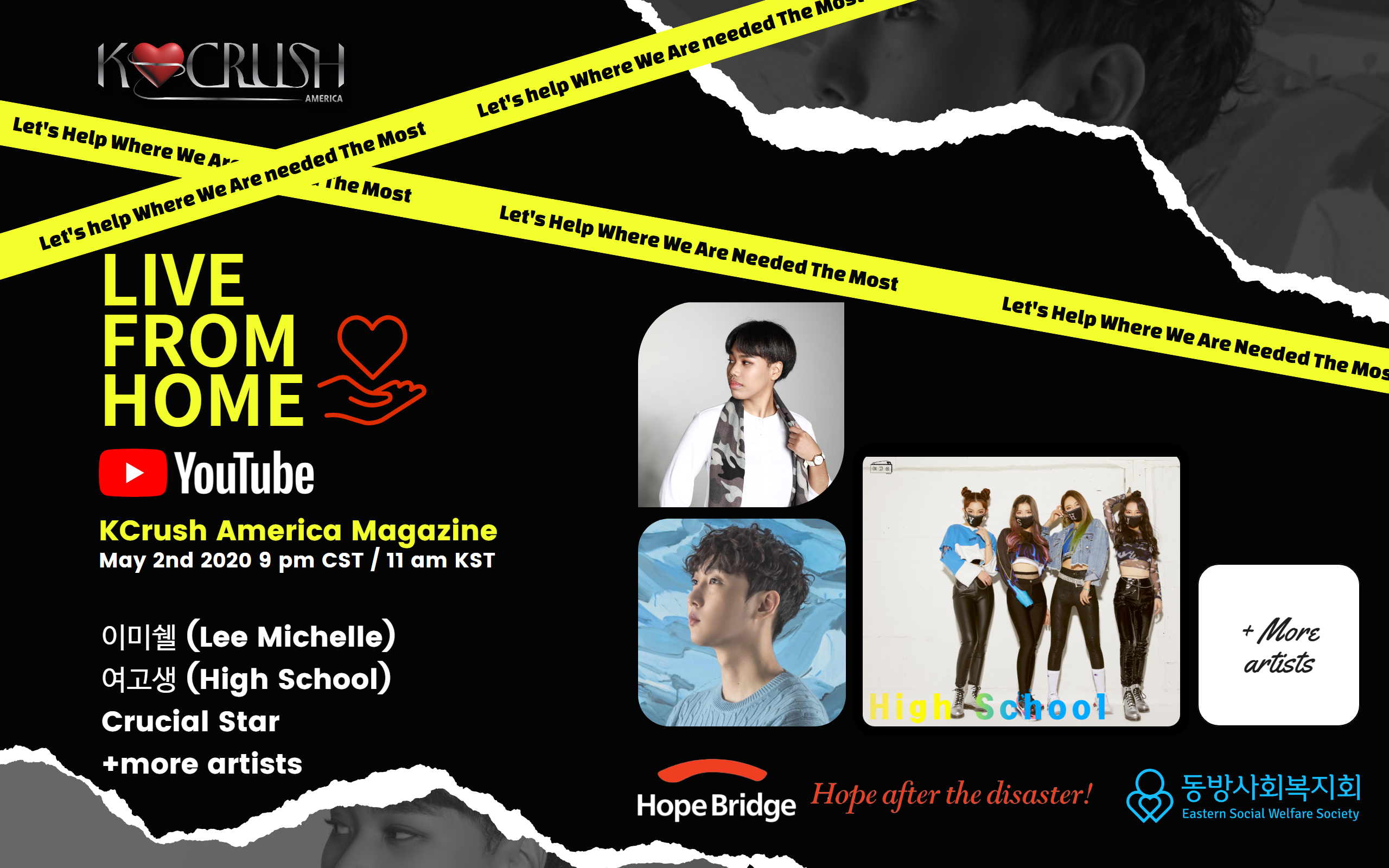 YouTube Live event will feature entertainment from Asian artists while raising money for two charities helping in COVID-19 pandemic
APRIL 23, 2020 – The team at Kcrush America Magazine is excited to announce that they will be hosting an upcoming YouTube Live event called 'Live From Home'. This exclusive event will raise money for charities that are helping children, single mothers, and the elderly during the COVID-19 pandemic.
Kcrush America Magazine is a contemporary urban lifestyle digital and printed publication committed to keeping audiences up to date on the latest entertainment news and events coming from Asia, connecting people in America to K-pop culture. Over the past four years, Kcrush has worked behind the scenes to bring the latest news, interviews, and more with leading Asian artists and celebrities. By highlighting the Asian industry's unique style, flare, and culture, Kcrush has brought K-pop to the U.S. by spearheading numerous events and continuing to offer articles on lifestyle, health, music, sports, tech, and more; K-pop and audio interviews; exclusive manga; and more.
Now, Kcrush is hosting the Live From Home event. This live YouTube event will be held live on May 2, 2020, at 9pm CST / 11am KST. The live stream host and emcee will be content creator Ashley Griffin. Details can be found at https://msha.ke/multifacetedacg/ and https://www.youtube.com/user/Multifacetedacg.
Audiences will enjoy live performances from some of their favorite Asian artists and celebrities, such as Lee Michelle, High School, Crucial Star, and others who will be offering their artistic talents for special one-time only performances.
Live From Home will benefits two charities that are giving back to children, single parents, and the elderly during the COVID-19 pandemic. This pandemic has left virtually no corner of the planet untouched, and people and organizations have come together like never before to support those in need.
One of the two charities that will benefit from Live From Home is Hope Bridge Korea Disaster Relief Association. This award-winning organization was founded in 1961 by social organizations, broadcasting companies, and newspaper companies to help those who've been impacted by disasters. To date, Hope Bridge has raised KRW 1.4 trillion and collected 30 million items for donation. This humanitarian aid and disaster relief association enacts a network with government agencies, major corporations, and media outlets when disaster strikes to help those in need.
The second charity which will benefit from Live From Home is Eastern Social Welfare Society, which was established in 1971 for children and locals who were suffering and rejected from society at the time. Today, the organization operates social welfare services for children, single parents, disabled people, and the elderly. Eastern Social Welfare Society also operates social welfare services for people across Korea and other international regions.
The team at Kcrush America Magazine is always committed to spreading Korean culture and giving back. During the current COVID-19 crisis, Kcrush America Magazine's team came together with talented K-pop stars to help support charities that are working diligently to provide for the most vulnerable during this time.
Live From Home will let audiences experience and enjoy live K-pop performances from the comfort of their home, which gives people an extra event to look forward to while sheltering in place.
About Kcrush America Magazine
Kcrush America Magazine offers the latest news, trivia, and information about Asian celebrities and culture. Kcrush America Magazine has been featured in eng.kofice.or.kr, a Korean publication.

Contact
Denise Coley, Founder/CEO
E-mail: events@krush.com
facebook.com/kcrushmagazine
twitter.com/kcrushmagazine
Instagram.com/kcrushsupport
Related Articles