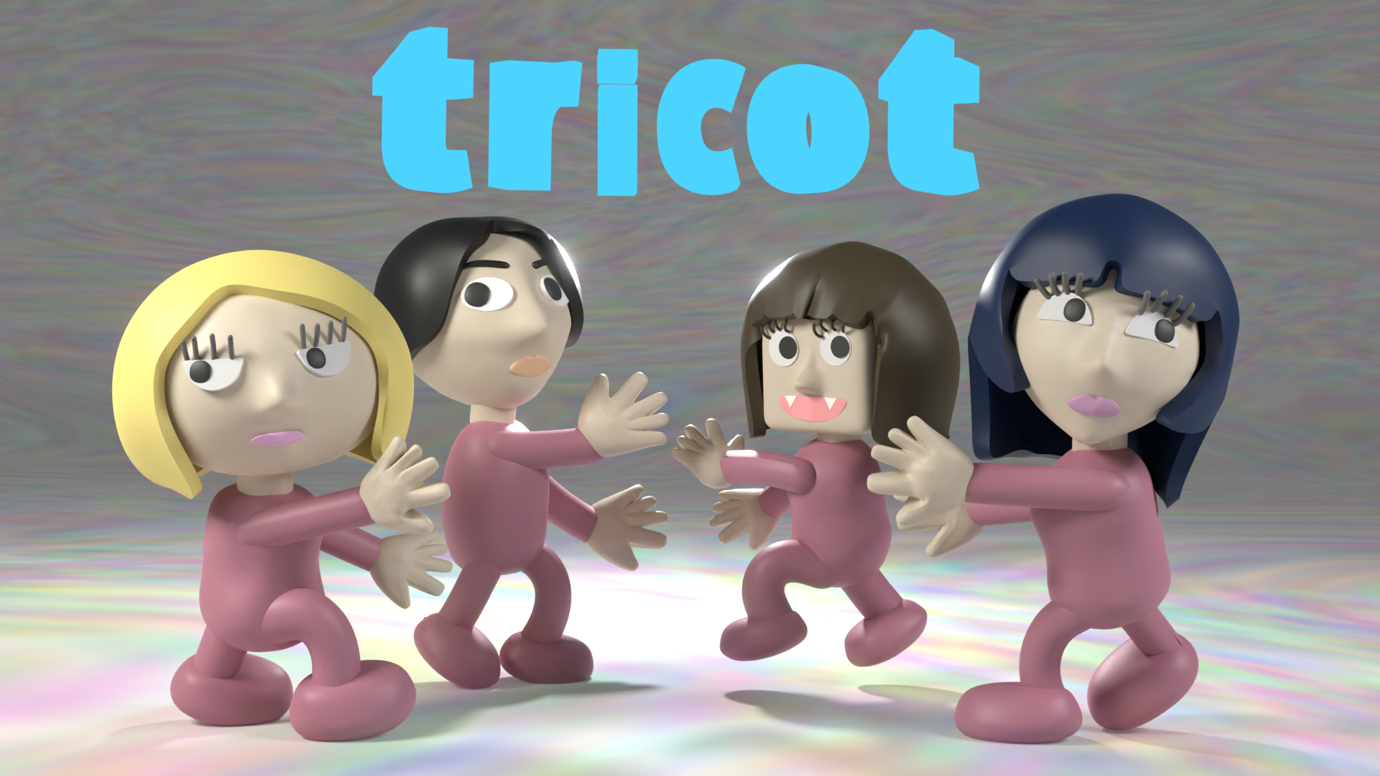 Japanese rock band tricot have announced a tour of the United Kingdom in November 2023. This is the UK leg of tricot's Zang-Neng Tour, which commenced in Japan in January and February this year to mark the release of the band's latest album, 'Fudeki'. The album title 'Fudeki' means "useless" in Japanese, which is the opposite of their previous album title, 'Jodeki' ("excellent"). The tour name Zang-Neng is a reading of the Japanese phrase meaning "that's too bad", a title chosen by vocalist Ikkyu Nakajima as an extension to the album title 'Fudeki'.
During tricot's tour of Europe and the UK last fall, they performed 20 shows in 10 countries, with sold-out shows in London, Manchester, Paris, Belgium and Germany. What kind of performances can we expect when tricot return to the UK for 13 dates, a year after their previous tour? One thing's for sure: As tricot reach ever higher heights, you won't want to miss this tour. For tickets, visit each venue's official website.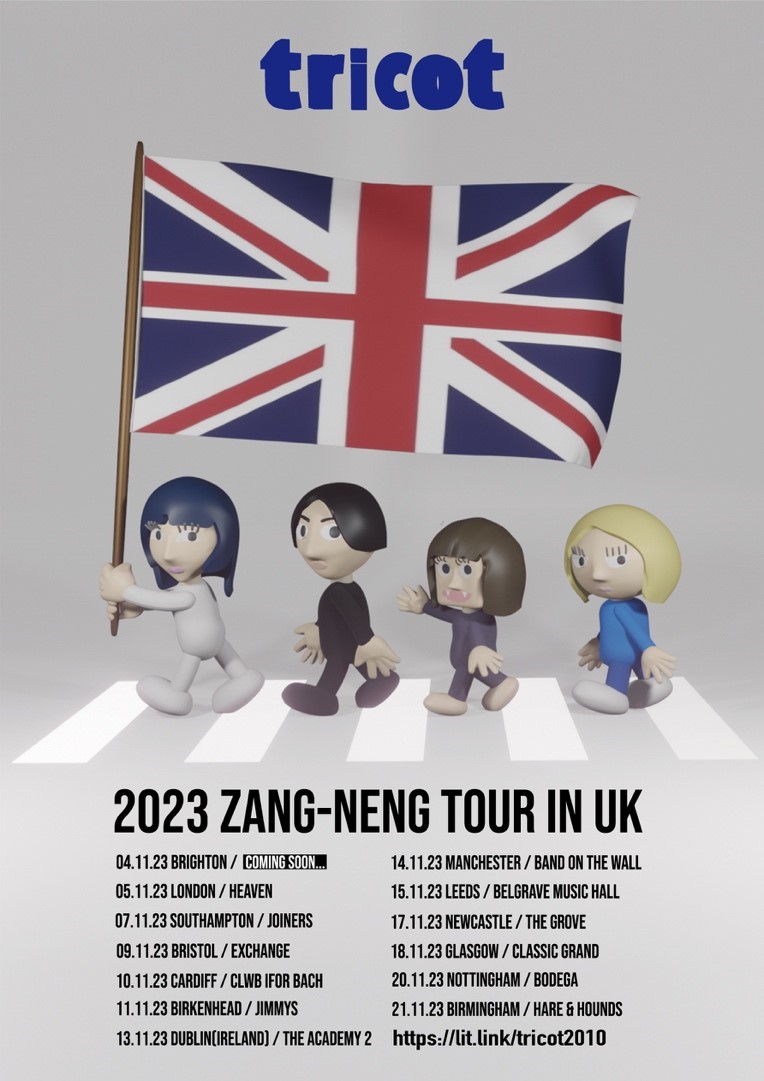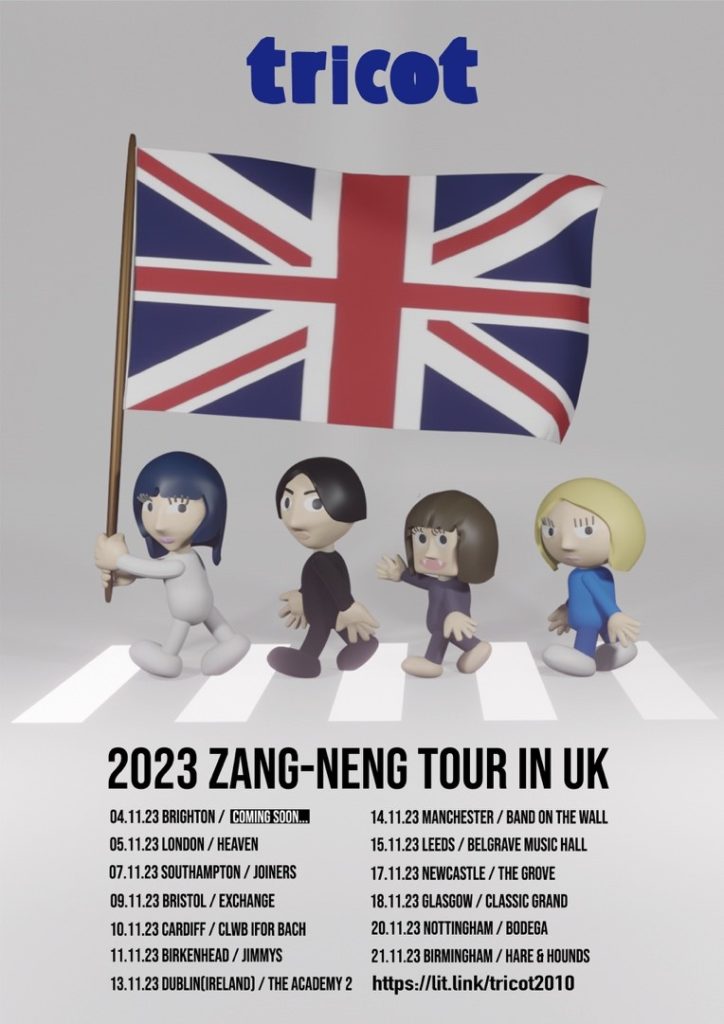 Tour information
tricot Zang-Neng Tour in UK
04/11/23 Brighton / To be announced
05/11/23 London / Heaven
07/11/23 Southampton / Joiners
09/11/23 Bristol / Exchange
10/11/23 Cardiff / Clwb Ifor Bach
11/11/23 Birkenhead / Jimmys
13/11/23 Dublin (Ireland) / The Academy 2
14/11/23 Manchester / Band on the Wall
15/11/23 Leeds / Belgrave Music Hall
17/11/23 Newcastle / The Grove
18/11/23 Glasgow / Classic Grand
20/11/23 Nottingham / Bodega
21/11/23 Birmingham / Hare & Hounds
For further information: https://tricot-official.jp/news/detail.php?id=1109047
tricot profile
Japanese rock band tricot formed in the historical and cultural city of Kyoto on September 1, 2010. The band have developed an unusual and distinctive sound that consists of harmonic pop melodies and emotional vocals with complex rhythm. While they are sometimes referred to as a math-rock band, the members themselves are in fact not familiar with the genre; they have arrived at a unique sound of their own imagining.
tricot have toured in many countries around the world and successfully held a total of 129 shows overseas, including three tours of Asia, three tours of Europe, a supporting slot for Pixies in the UK, and further tours in the US and UK. On their tour of Europe and the UK in September 2022, tricot played 20 shows in 10 countries, including several sold-out headline shows. These dedicated musicians regularly perform sold-out concerts and have a devoted fan base throughout the world.
Official website: https://tricot-official.jp/
Twitter: https://twitter.com/tricot_band
Instagram: https://www.instagram.com/tricot_band_jp/
YouTube: https://www.youtube.com/channel/UC8Xp4bKmRn8cmAzi0cc66KQ?sub_confirmation=1
#tricot #Japaneserockband #tricotUKTour #Kyoto #Japan #kcrushnews #ZangNengTour #Fudeki #IkkyuNakajima #kcrushamercia #harmonicpopmelodies #UnitedKingdomTour #
Related Articles