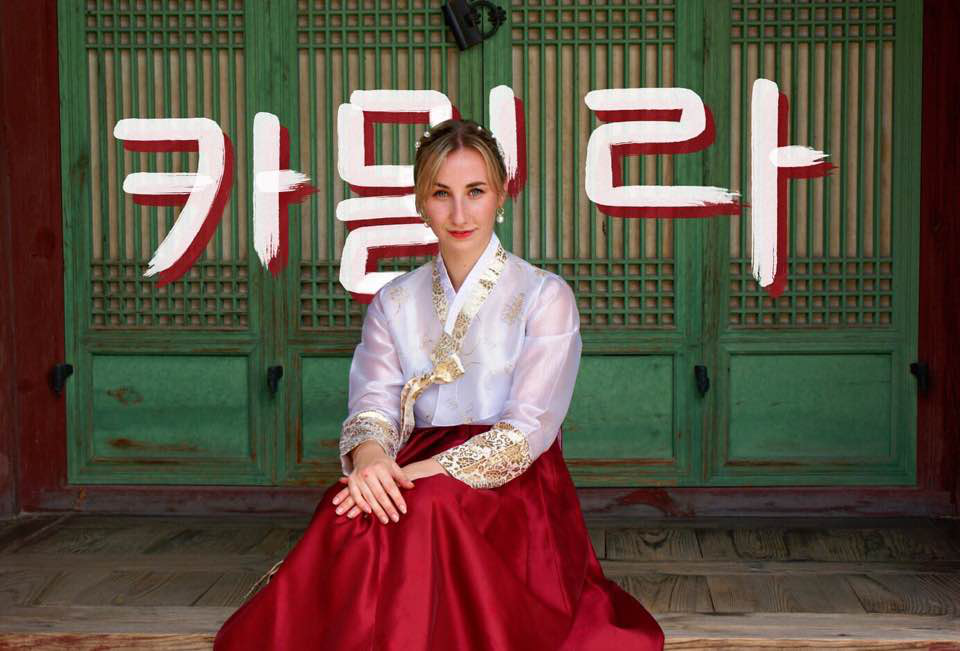 As many of you know, one of our goals is to reach out and interview people who have unique and inspiring stories to tell.
Camilla is the only Danish person that I've ever come across, so I was personally very intrigued to hear about how she first became interested in Asian culture, her work exchange in Korea, her interests and so on.
We'd like to thank Camilla for this great interview and wish her all the luck for her future.
Would you please briefly introduce yourself to our readers?
My name's Camilla, I'm a 24-year-old, freelance artist, part-time traveler, taekwondo enthusiast and pureblooded Dane.
How did you initially get interested in Asian culture?
I think like many other young people in the west, I was in my teens influenced by Asian culture and media, in particular Japanese, in the form of tv shows and books; Anime and Manga particularly. I recall shows such as DragonBall Z and Naruto, which in particular was huge. And as an artist, I was fascinated with this, to me, a new way of drawing. Even though those influences and experiences are from years ago, that was really the catalyst for me, and what I think was the jumping board for me to later travel to Asia.
I find things in my life often come around, so it wasn't that huge of a surprise, when I approximately 4 years ago started listening to K-pop music, and watch K-dramas. That set off a new exciting journey for me in terms of learning the Korean culture and language better, and planted a seed, that South Korea had to be a new travel destination of mine.
Tell us about your recent work exchange in Korea.  
After a month's stay in Korea, I decided I wasn't quite ready to leave yet.
In fact, I would love to stay as long as possible – but the money was getting short. So, I had to find some way in which I could stay for longer, but without having to pay rent, like I previously had done. Work-exchange! I had heard of some foreign friends doing work-exchange at a hostel in Korea (and I knew this to be an option, as I had done it myself in Australia) so I thought I might as well give this a go in Korea as well. Luckily enough, just as I was searching, a hotel/hostel, happened to be looking for new staff. Hostels seem to always be busy, so they were quick to accept me.
The experience of working there in general was pretty much as expected: work in exchange for a place to stay, and free breakfast. Nothing fancy, but personally I'm not one in need of much. Everyone there, including the boss, was super nice and accommodating. If you wish to practice a foreign language, do work-exchange at a hostel where primarily Chinese and Korean people work and stay, and you'll quickly try to divert to the little Korean you know.
The work in itself is pretty simple housekeeping work, and it's usually around 3.5 hours a day, 6 days a week. I did find myself working overtime every now and then, which I'd heard was pretty common, so that's something to take into account. But for me it was worth it anyway, if it meant I got to stay in the city I love for a little longer, at no expense accommodation-wise.
What would you recommend other people about Korea?
My two and a half months stay in South Korea, was spent in Seoul, so unfortunately, I didn't get to travel outside it. But Busan and Gyeongju is somewhere I was recommended several times! In regards to in Seoul, I feel like there's so much you can go see, depending on what your interests are!
There of course are all the palaces; Gyeongbokgung in particular being one I'd recommend, and the Secret Garden at Changdeokgung. Bukhansan National Park is great if you like a good hike! Hanggang Park is lovely as well, and of course the more touristy-shopping areas, such as: Myeongdong, Hongdae and Insadong.
It's probably been mentioned over and over, but in terms of other recommendations I would just say: the food. Korea really seem to take pride in its cuisine, and it's easy to understand why; it really is delicious.
Did you have any kind of culture shock when you arrived in Korea?
I think for me, I was fairly well-prepared because I was already interested in the culture before I came, so I somewhat knew what to expect. But I can imagine if you don't, you'll be quite surprised. I guess what shocked me the most was the confirmation of all the things I'd heard/read about. And In particular just how nice everyone is.
A good example, was my very first day in Seoul: I found myself sitting on a curb in the 35 degrees heat with my suitcase at hand, just waiting for my Airbnb to be available. That's until an elderly Korean man approached me and asked for me to follow. He ended up bringing me along to a small café' where he and several other people were eating. I hardly had time to register anything before I was served up with several dishes, and told to eat and drink. They were all so incredibly accommodating and lovely, that I was so overwhelmed with thankfulness. I had never experienced such before. You would definitely never experience that in Denmark. So that, was a bit of an overwhelming feeling for me; just how nice and welcoming everyone were.
Of course, it always takes a moment to adjust to different cultural customs, regardless of how well-prepared you are. But nothing shocked me to the point not having heard of if beforehand. Maybe a minor surprise, was how little English the young people spoke. I knew that not everyone was fluent or the likes, but I was a bit surprised to how little they actually know, or rather, how uncomfortable they seem talking in English.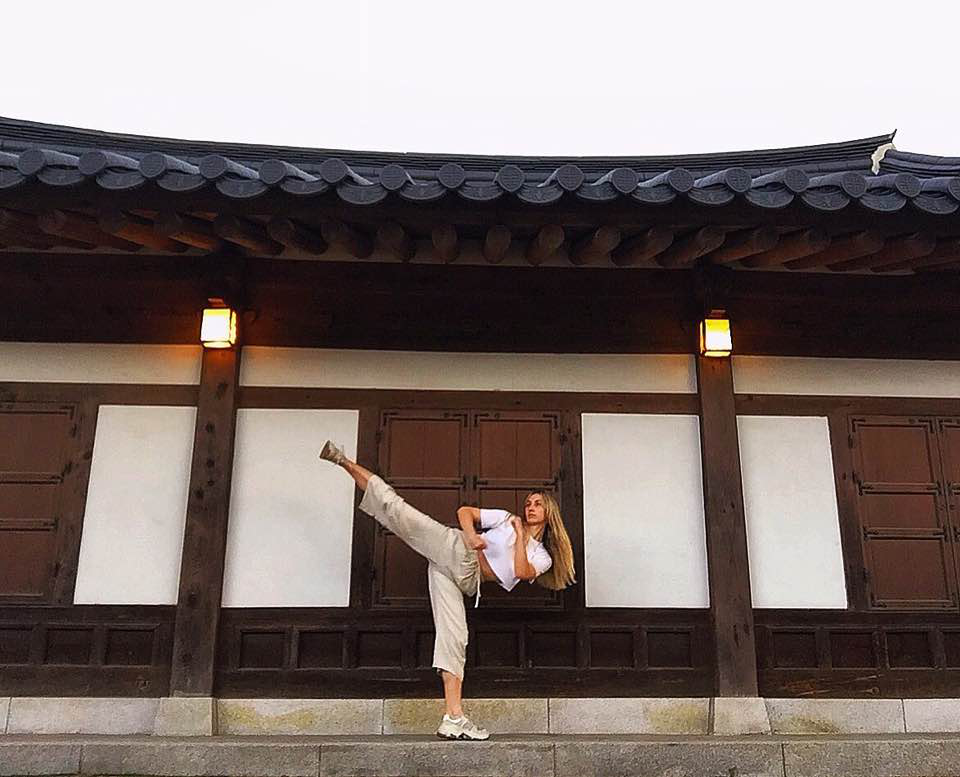 How does the Korean and Japanese culture differ in your opinion?
As I only spent 6 full days in Tokyo, I didn't' get to fully dive into the underlying deep cultural difference, like I would've liked to. So, the first surface level differences I noticed, were things like: Fashion, makeup and the underground layout. The fashion in Tokyo didn't seem as seamless (no pun intended) as in Seoul. In Seoul you quickly get the sense that people are following the same and newest style/trend, and I personally just didn't get that feeling in Tokyo. Which perhaps could make people seem a little bit more laid back in that aspect.
I did however notice one too many ambulances outside Tokyo station, told by my friend that that's a common sight, as people, perhaps older, easily get exhausted and accidentally trip/get bumped into by the many people in the underground and injure themselves. That brought up the aspect of overworking oneself, something I didn't experience to quite that extent in Seoul.
I have a hard time expressing whether I for example find one culture more polite or welcoming than the other, because they in my opinion are both, but perhaps in different aspects.
Do you think it's difficult to be a Vegan in Asia? Let us know your thoughts.
I'm in the belief that things are only as difficult as you make them. However, I would be lying if I said being a vegan in Asian countries isn't a test for sure. On one hand there's lots of great vegetable side dishes, and rice of course, but on the other it's a huge meat culture – and when you can't read hangul on the packaging of things it doesn't make it easier to guess what ingredients are in it.
I honestly did have quite a tough time, and when you're on a budget it doesn't make it less painful, because I found certain vegetables to be quite expensive. I'm sure there'll come a day when it's a lot more convenient and you'll see soy milk and vegan cheese in the marts too – just not quite yet. At least, the tofu is cheap!
I would however say that despite it not being a common thing, I found Koreans to be super welcoming to my dietary needs! (may I refer back to my first day experience, where they started to cook up new dishes for me, without meat – so nice!) No-one really looked at me funny, and even if they thought it was weird, they acted very polite about it.
Which country or continent do you wish to visit in the future?
There are so many places I wish to see, but I think Canada, Norway and Austria is the highest on my list right now. I would love to experience the nature and the mountains. And I would love to go back and experience more of Japan, and South Korea, as well.
*Which region of the world would you recommend for a perfect holiday?
It depends on what kind of holiday you're looking for really. But if it's what I assume to be a bit more of a family one, with sightseeing and relaxing, I would probably say Europe.
Especially Italy or France, I just think it's the perfect combination of a diverse and different cultural experience, but nothing that'll sweep you off of your feet and leave you drained for days. It's chill and accommodating, with such a great warm ambience and nice people. It's great for the family who wants to experience culture together, yet put their feet up and relax.
Thank you very much for your precious time. Last question, what would you advise to anyone who wishes to spend a working holiday in Asia?
Do yourself the favor and learn a few words or even phrases, and common cultural gestures of your country of destination. You'll thank yourself later, and the locals will be impressed – even a little goes a long way. Be polite and welcoming to everyone you meet, and they'll likely be the same to you. Stay positive, put on your best attitude and go have a great time – that's what we're here for after all, isn't it?
––J. Chung.
Related Articles