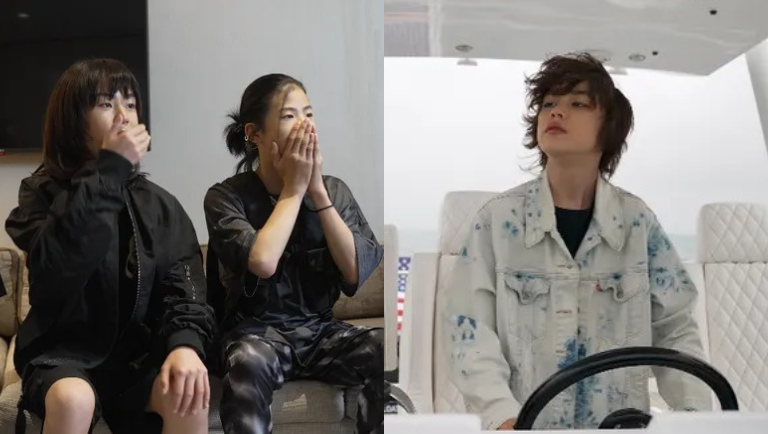 Photo Credit: ChoCo Entertainment / Sole9 Media
WATCH 'ChoCo in Hollywood' EP3
WATCH ChoCo1's '85 IN' Official MV 
The special memories that ChoCo1 made in Hollywood are revealed for all to see in episode 3 of the reality show "ChoCo In Hollywood".
"ChoCo In Hollywood" is an Mnet M2 reality show produced by Sole9 Media (known for "Mnet Asian Music Awards (MAMA)") that follows the artistic journey of K-Pop trainees from ChoCo Entertainment –  Jake, TJ, Sean, and Anpan as they prepare to stand on the global stage as complete artists. From a detailed demonstration of ChoCo Entertainment's unique training curriculum to the male trainee team ChoCo1 (Jake, TJ, Sean) landing in Hollywood to record their own music, the show is a realistic representation of life as a ChoCo trainee.
On May 26, 2023, the third episode of "ChoCo In Hollywood" showed us some unseen moments that the trainees spent in the United States, shooting the music video of their new song '85 IN' (which was released previously in episode 2) and meeting star mentor Jamie Foxx. In addition, ChoCo's "avatars" are also introduced to the world for the first time in this episode.
Notably, the trainees were playful and curious on set, even pulling pranks during break time, but quickly went into a more mature and calm "Artist Mode" once the cameras started rolling. Despite the continuous feedback in English, the trainees were able to grasp the situation and implement necessary changes, thus producing an impressive result.
By this time, with their busy schedule, the trainees were coming down with jetlag but didn't let it stop them as they set out for a luxury yacht experience, eyes sparkling with exhilaration. While ideally, they would have liked to imagine themselves in a music video starring famous rappers, especially with such a lavish setting, Jake and TJ suffered from seasickness, cutting their fun short.
It was also in episode 3 that another one of ChoCo1's dreams came true. Upon meeting the one and only Jamie Foxx, the trainees were left with heart-fluttering excitement as he spoke to them like a friend and showed his unwavering support and encouragement
In particular, when the legendary actor and musician shared that his secret to success was being fearless and spoke in Korean, urging the trainees to never be afraid, it boosted their self-confidence by leaps and bounds.
That's not all! Episode 3 also introduced ChoCo's avatars, which drew the attention of viewers. These avatars, which were created by brainstorming with ChoCo and gathering their ideas over a long period of time, will reportedly be active on social media and in the digital world. Each trainee introduced their avatar, raising anticipation for their future activities.
You can watch episode 3 of "ChoCo In Hollywood" on the "M2" YouTube channel, as well as on Mnet today (May 27) at 11 AM KST and tomorrow (May 28) at 5 PM KST.
The next episode of the Korean version of "ChoCo In Hollywood" will be released on June 2, 2023, at 7 PM KST, only on "M2"!
Meanwhile, you can listen to ChoCo1's latest digital album, "ChoCo Takes Hollywood", containing their songs that are featured in the reality show here.
About ChoCo Entertainment
ChoCo Entertainment is an ultimate IP entertainment company geared towards leading the next Hallyu wave. With a focus on individuality, collaboration, and growth as its core values, ChoCo Entertainment encourages its artists to find their passions and follow their originality to create music that matters. The company's unique artist incubation system is designed to foster independent and self-sufficient artists who have a thorough grasp of music and can explore their creativity without being constrained by the prevalent culture of competition in K-Pop. With the aim of creating a truly global K-Pop group, ChoCo Entertainment is preparing to debut ChoCo in the 5th generation of K-Pop.
About ChoPD
Junghun Cho, also known as ChoPD, is the founder, executive producer, and CVO (Chief Visionary Officer) of ChoCo Entertainment. Known as the "pioneer of digital music", ChoPD is a multi-award-winning artist and has attained legendary status in the K-Pop industry with his trailblazing innovation and impactful contributions to the globalization of K-Hip Hop. He is the genius mastermind behind launching artists like PSY, ZICO, Dok2, and more, and now, he is producing his very own K-Pop group – 'ChoCo' – preparing to usher in the 5th generation of K-Pop.
CONNECT WITH ChoCo Entertainment
Instagram | TikTok | YouTube | Twitter
#ChoCo #ChoCoEntertainment #kcrushnews #ChoPD #kcrushcontent #ChoComeetsJamieFox #kpop #JamieFox #k-hiphop #5thgenerationofkpop #JunghunCho #chiefvisionaryofficerofChoCoEntertainment #kcrushamerica #MnetAsianMusicAwardsMAMAfollowsChoCoartisticjourneyofKPoptrainees #ChoCoEntertainmentJakeTJSeanAnpan #ChoCoJake #ChoCoTJ #ChoCoSean #ChoCoAnpan #newgroup #newmusic #Korea #koreantalent #kpopnewtalent #kpopnewgeneration #kcrushmedia #officialkcrush2014
Related Articles