You voted, you decided! Our first-annual KCRUSH America K-Pop Awards went off without a hitch.
Voting* for our K-Pop awards began December 20, 2016 and ran through January 7, 2017. Voters had an opportunity to choose their favorite artists in several categories including Best Artist, Best Dance, and Album of the Year. During the voting process, some fierce battles were thought with some winners being decided by a thin margin; for others, there were complete blowouts! For the most-part, we were extremely surprised by the results. We appreciate your participation for making our first K-Pop awards a success. Without further ado, here are your winners!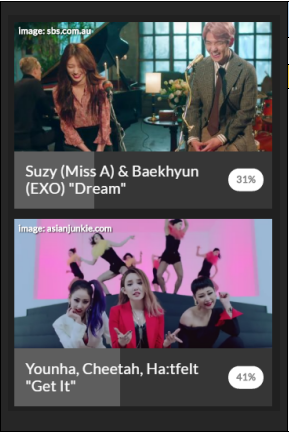 Best Collaboration

PROJECTED
Suzy & Baekhyun "Dream"
WINNER
Younha, Cheetah, & Ha:tfelt "Get It"
In our first category, a surprise winner took the prize! Younha, Cheetah, and Ha:tfelt's "Get It" wowed voters with its fierceness and empowerment. We expected Say-A's and EXO-L to band together to get the win for Suzy and Baekhyun's sweet, jazzy "Dream."

"Get It" earned 41 percent of the votes, while "Dream" earned 31 percent. Third place was Eric Nam and Wendy's "Spring Love" with 10 percent of the votes.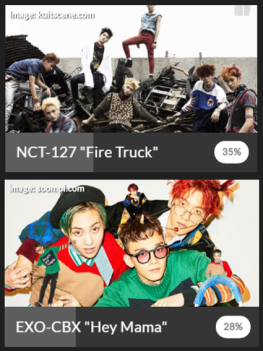 Best Sub-Unit

PROJECTED
NCT-127 "Firetruck"
WINNER
NCT-127 "Firetruck"
SM Entertainment's NCT-127 impressed with "Firetruck," a track that exhibits some solid rap and even better beat. The song's addictive hook and beat and, perhaps, the Big Three company expectation, helped propel them to the top.

NCT-127 beat EXO-CBX 35 percent to 28 percent. Block-B Bastarz came in at a distant third with 11 percent of the vote.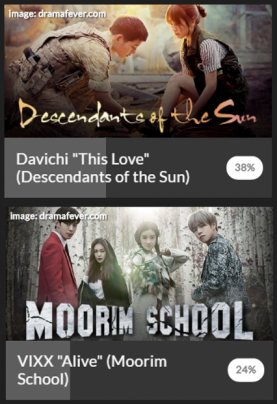 Best OST

PROJECTED
Lee Juck "Don't Worry" (Reply 1988)
WINNER
Davichi "This Love" (Descendants of the Sun)
Descendants of the Sun had immense popularity, quickly becoming a hit both domestically and internationally. The music from the show was nothing to boo at either as each track captured the story beautifully. It's no surprise that Davichi's "This Love" took the top spot over other tracks nominated for this award. The surprise with this category is that Lee Juck's "Don't Worry" wasn't even a contender. The song won an award at 2016 MAMA, but was barely a consideration here.

"This Love" snagged 38 percent of the vote, while VIXX's "Alive" (Moorim School) came in second with 24 percent. Third was Yoon Mi-Rae's "Always," also from Descendants of the Sun. The song earned 13 percent of the votes.
Best Rap Performance

PROJECTED
Cjamm & BewhY "Puzzle"
WINNER
Zico, Crush, DΞΔN "Bermuda Triangle"
Cjamm and BewhY's "Puzzle" was initially expected to take home the gold because it was a highly touted tracked that took home a few awards this year. However, the trifecta of smoothness that is Zico, Crush, and DΞΔN couldn't be stopped as the track quickly gained momentum on the polls. The two tracks flip-flopped often during the voting period and were, at one time, tied. In the end, you decided "Bermuda Triangle" was worthy of the win.

"Bermuda Triangle" earned 45 percent of the votes, while "Puzzle" earned 29 percent. Gary's "Lonely Night" was third at 9 percent.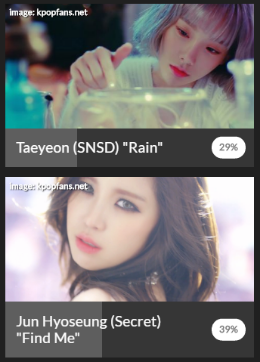 Best Female Solo (from a group)

PROJECTED
Taeyeon (SNSD) "Rain"
WINNER
Jun Hyoseung (Secret) "Find Me"
In what some may consider an upset, Hyoseung's "Find Me" topped Taeyeon's "Rain" 39 percent to 29 percent.

"Find Me" features a strong, retro dance track laced with Hyoseung's signature, effortless sex appeal. While it didn't perform strongly on the charts, for casual listeners, it hit all the right notes to take the top spot.

Third place belongs to Luna's "Free Somebody" at 10 percent.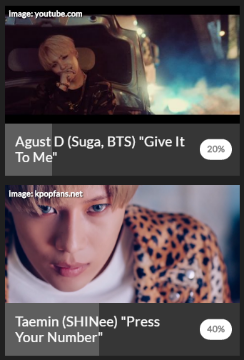 Best Male Solo (from a group)

PROJECTED
Zico (Block B) "I Am You, You Are Me"
WINNER
Taemin (SHINee) "Press Your Number"
Taemin is a strong soloist with amazing tracks that can easily be used to convert someone to the K-Pop world. "Press Your Number" features his signature vocals that recall Michael Jackson's skill set, and Taemin's dancing adds flair. Taemin breezed by the competition by winning the category with 40 percent of the votes.

Second place belonged to Agust D's (BTS) "Give It to Me" at 20 percent. Zico rounded out the top three with 16 percent of the vote.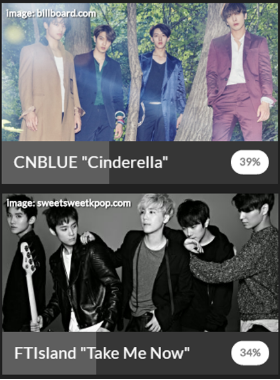 Best Rock Group

PROJECTED
FTIsland "Take Me Now"
WINNER
CNBLUE "Cinderella"
The FTIsland/CNBLUE Rock group will continue to rage on as both are always battling each other. What's interesting is they're both in the same company. How's that for drama?

CNBLUE usually top the battle, and that's further proven with how they edged out FTIsland here. Even though FTIsland had the better releases this year, CNBLUE are more public-friendly. Given how close the votes were, though, it's clear the public is just as torn as we are regarding who's the favorite group!

CNBLUE earned 39 percent of the vote over FTIsland's 34 percent. Day6 was third at 9 percent.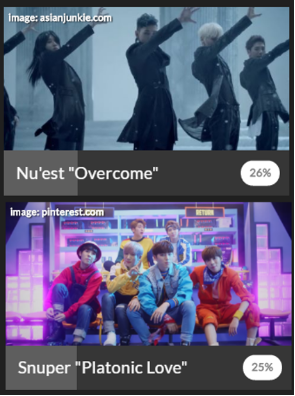 Best Underrated Song (Male Group)

PROJECTED
Nu'est "Overcome"
WINNER
Nu'est "Overcome"
In one of the closest races, Nu'est edged out Snuper's "Platonic Love" by one vote in a category that had strong competition. Nu'est's win was well-earned in the hard-fought battle as they earned credit and recognition.

When Nu'est debuted with "Face" in 2012, they had a strong concept and a winning song. Many expected them to compete with B.A.P and EXO to become one of the top groups in the new generation of K-Pop artists. However, Nu'est fell off the map and has had to fight to be recognized. When "Overcome" came out in 2016, it looked like their fortunes were about to turn around. Perhaps there's still time to do so. With this win, it proves that the L.O./\.E fandom is still out there.

Nu'est topped Snuper 26 percent to 25 percent. Third was a tie between B.I.G's "Aphrodite" and TOPPDOGG's "Rainy Day" at 17 percent. We told you this race was close.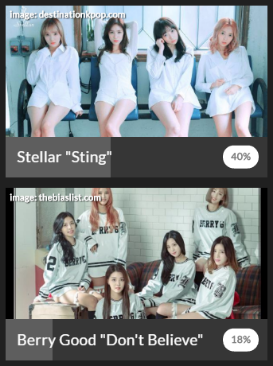 Best Underrated Song (Female Group)

PROJECTED
Fiestar "Mirror"
WINNER
Stellar "Sting"
Stellar deserved this win simply because there are fears they will disband, and for the fact, they've had a hard time winning over the public since "Marionette's" sexy-dance gate. Stellar often release a steady stream of solid songs that strongly deserve recognition because they are arranged well and suitable for Stellar's great vocal abilities. Since there's interest in the group and fans don't want them to disband, we're hoping the win translates into more support for the oft-embattled group.

Stellar won by receiving 40 percent of the vote. Berry Good's "Don't Believe" was second at 18 percent, while Fiestar's "Mirror" was third at 14 percent.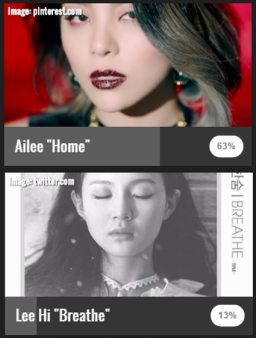 Best Female Solo

PROJECTED
Lee Hi "Breathe"
WINNER
Ailee "Home"
While Lee Hi had one of the most anticipated comebacks of the year, Ailee, once again, proved she is a consistent songstress capable of appealing to the masses year-in and year-out. "Home" shows off Ailee's strong vocal abilities to the fullest and worthy of the win.

Ailee received 63 percent of the votes. Lee Hi earned 13 percent, while Jessi's "Excessive Love" earned 9 percent.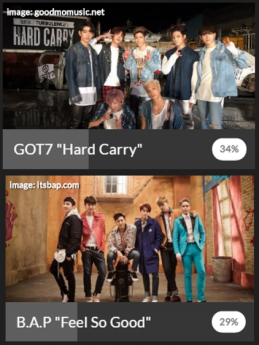 Best Dance (Male Group)

PROJECTED
EXO "Monster"
WINNER
GOT7 "Hard Carry"
GOT7 showed that a strong dance can get you places even if the song it accompanies isn't among the strongest releases of the year. "Hard Carry" features strong precision and well-timed choreography that shows off GOT7's skills. The dance earned this win and can sit up on the podium nicely.

"Hard Carry" took 34 percent of the vote. B.A.P's "Feel So Good" shockingly took 29 percent. EXO's "Monster" was third at 16 percent.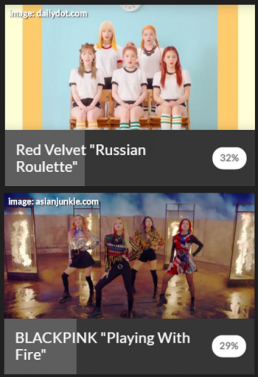 Best Dance (Female Group)

PROJECTED
BLACKPINK "Playing with Fire"
WINNER
Red Velvet "Russian Roulette"
With its colorful quirkiness, Red Velvet's "Russian Roulette" has a fun element combined with Red Velvet's youthful charm. It's no surprise that it won the category as it was well-deserved.

In second, BLACKPINK's "Playing with Fire" provides fierceness and strong choreography that matches the beat and tone well.

Votes for both tracks went back and forth during the voting period. "Russian Roulette" won with 32 percent of the votes; "Playing with Fire" had 29 percent. Third was Gfriend's "Rough" at 14 percent.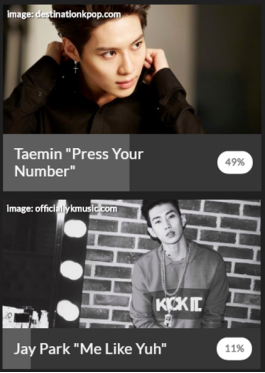 Best Dance (Solo)

PROJECTED
Taemin "Press Your Number"
WINNER
Taemin "Press Your Number"
If Taemin releases a track, it's a guarantee that it's going to have an awesome dance attached to it. With "Press Your Number," he didn't disappoint. His usually sharp finesse shines brightly for the track, securing his win for this category.

Taemin earned his win with 49 percent of the vote, winning over Jay Park's "Me Like Yuh" (11 percent) and HyunA's "How's This" and Jun Hyoseung's "Find Me" (9 percent each).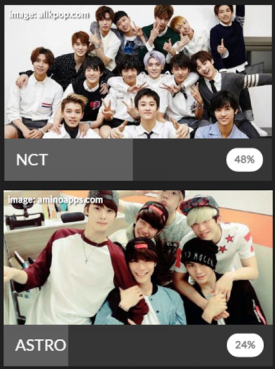 Best Rookie Debut (Male)

PROJECTED
NCT
WINNER
NCT
While NCT didn't perform as strongly as other SM Entertainment groups who debuted in the past, they and their subunits had a solid year as one of the strongest male rookies to debut. NCT came out with guns blazing with their multi-faceted tracks to show they're not one-dimensional, so they have potential to continue to improve as the years creep on.

NCT earned 48 percent of the vote, while second place ASTRO and third place KNK earned 24 percent and 16 percent respectively.
Best Rookie Debut (Female)

PROJECTED
BLACKPINK
WINNER
BLACKPINK
In a landslide victory, BLACKPINK proved how strong debut songs (even though "Playing with Fire" and "Stay" were stronger than "Whistle" and "Boombayah") and YG's famous media play can work to your advantage. BLACKPINK are a total package group with nice vocals and rap abilities as well as strong dance skills, but they rank higher in likeability thanks to their MV making videos and variety show appearances. You, the voters, have a lot of high hopes for their future as they won this category with 72 percent of the votes.

Second was I.O.I at 13 percent. Bulldok came in at third with 6 percent of the vote.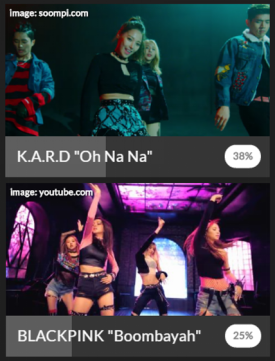 Best Debut Song

PROJECTED
BLACKPINK "Boombayah"
WINNER
K.A.R.D "Oh Na Na"
In terms of sales and music show wins, BLACKPINK fared the best out of all the nominees for Best Debut Song. "Boombayah" had all the makings of a hit including nonsense lyrics, a dance-heavy track, strong vocals and rap, and addictability.

K.A.R.D's "Oh Na Na" had many of these qualities, but it also came out at the end of the year. Timing didn't matter as "Oh Na Na" came in and took the top spot as best debut song. International fans loved everything about the track as it spread like fire on social media and K-Pop forums. The song's quick spread and popularity helped it topple "Boombayah" 38 percent to 25 percent respectively.

SF9's "Fanfare" came in third, earning 18 percent of your votes.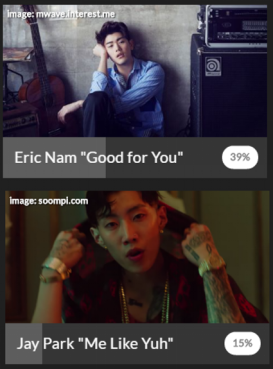 Best Male Solo

PROJECTED
Crush "Don't Forget"
WINNER
Eric Nam "Good for You"
Eric Nam took this category effortlessly with "Good for You." Frankly, the win is well-deserved because Nam has some of K-Pop's most underrated vocals. His songs have a sweet quality to them, making him a winning vocalist.

Nam earned this category with an impressive 39 percent of the vote. Jay Park's "Me Like Yuh" earned 15 percent, while Seo In Guk's "Seasons of the Heart" and Jung Joon Young's "Sympathy" tied for third with 10 percent respectively.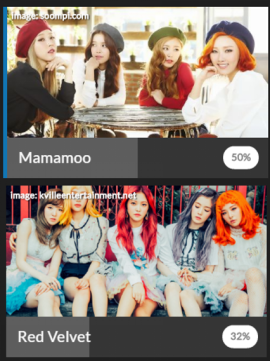 Best Female Group

PROJECTED
TWICE
WINNER
Mamamoo
TWICE had an impressive 2016 with "TT" and "Cheer Up" both becoming mega hits. "Cheer Up" gave us the iconic "sha sha sha" while "TT" continues to win the music shows even though it's a new year. TWICE were even dubbed monster rookies in 2015, so a win for them should have happened here, right?

Well, voters decided "no" as the race was between Mamamoo and Red Velvet throughout the entire voting period. The two groups battled strongly and often leap-frogged over one another to make this category one of the most interesting to watch. In the end, Mamamoo and their variety of 2016 releases took home the gold with 50 percent of the vote.

Red Velvet came in second at 32 percent, while third belongs to Gfriend at 5 percent, edging TWICE by one vote.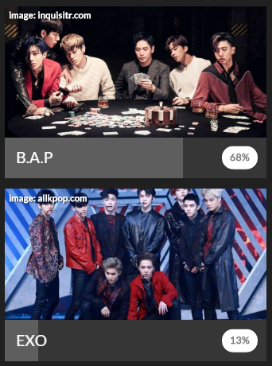 Best Male Group

PROJECTED
BTS
WINNER
B.A.P
The Baby fandom is really excited to have B.A.P back in the game as they worked hard to vote for the group in each of the categories in which they were nominated. B.A.P came out on top of a category that was expected to be closer than what it was, but they have a solid argument for why they earned the spot. After a lawsuit against TS Entertainment in 2014 and through until their comeback in November of 2015, B.A.P had a long hiatus and a long road ahead of them to prove they were still contenders in the competitive K-Pop market. With a string of releases this year, they managed to show off they are still a viable group. While the win is a surprise, it is well-earned.

B.A.P topped this category with 68 percent of the vote. EXO and BTS were at a distant second and third with 13 percent and 10 percent respectively.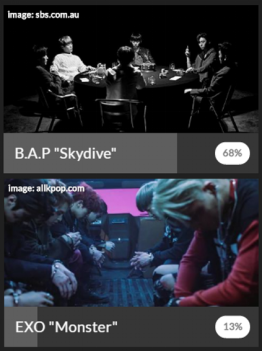 Video of the Year

PROJECTED
BTS "Blood, Sweat, & Tears"
WINNER
B.A.P "Skydive"
B.A.P's "Skydive" is a 10-minute mini film that tells the story of betrayal. "Skydive" shows improved acting abilities by the B.A.P members helped to cement their win in this category.

"Skydive" received 68 percent of the votes, while EXO's "Monster" earned 13 percent, and BTS' artistic, impressive "Blood, Sweat, & Tears" earned 9 percent of the vote.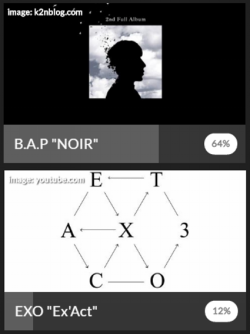 Album of the Year

PROJECTED
BTS Wings
WINNER
B.A.P Noir
B.A.P's Noir album performed well on international charts and came with rave reviews from fans and music magazines and websites alike. Noir even earned B.A.P a record with their fourth number one album on a Billboard chart. With solid songs like "Skydive," "Confession," "Ribbon in the Sky," and "Fermata" among others, B.A.P flaunts their chameleon-esque abilities with fluid genre shifts.

Noir took the award with 64 percent of the vote. EXO's Ex'act took second at 12 percent; BTS was third at 10 percent.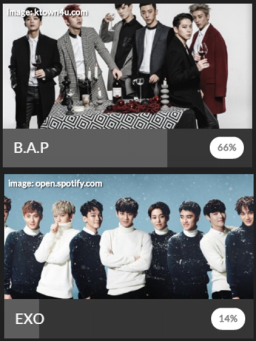 Artist of the Year

PROJECTED
BTS
WINNER
B.A.P
With several releases this year, a handful of music show wins, and a successful multi-city, multi-country world tour, B.A.P take the Artist of the Year award with ease. After a difficult 2014-2015, the group came back more powerful than ever to show how relevant they still are. Even though they still have struggles to contend with—such as earning back their fandom—they proved that 2016 quietly belonged to them while other groups made all the noise up and down the Hallyu Wave.

B.A.P earn their Artist of the Year trophy by a landslide with 66 percent of the vote. EXO were second at 14 percent, while BTS took third with 9 percent.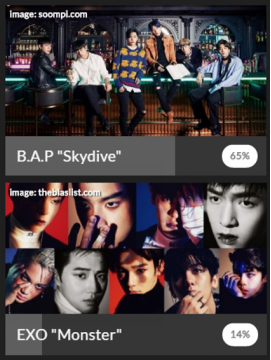 Song of the Year

PROJECTED
TWICE "Cheer Up"
WINNER
B.A.P "Skydive"
TWICE's "Cheer Up" and its immense popularity broke many records in 2016, so it was expected for it to be a shoe-in for Song of the Year. Surprisingly, it wasn't even a contender as it only earned 2 percent of your votes.

What is surprising is that B.A.P smoked the competition. "Skydive" earned the top spot effortlessly, proving that even though the Baby fandom has shrunk since 2014, it mobilizes when it counts. "Skydive" trumped even BTS' "Blood, Sweat, & Tears" and EXO's "Monster," both of which were strong showings for each group with BTS also breaking a few records and EXO showing more finesse. The competition for Song of the Year should have been much closer than it was considering the impressive nominations.

B.A.P earned 65 percent of the vote. EXO had 14 percent to earn second place, while BTS had 8 percent for third.
Are you as surprised by the results as we are? We're shocked at a few things here:
TWICE and BTS were shut out despite winning many of the year-end awards
B.A.P were dominating
Groups that debuted within the past few years topped the votes
What does this suggest about the changing hands of groups and fandoms? Please discuss!
Thank you once again to everyone who voted! See you next year!
Thank you to Riddle for hosting our awards polls.
*All voting was anonymous
—-Joelle Halon