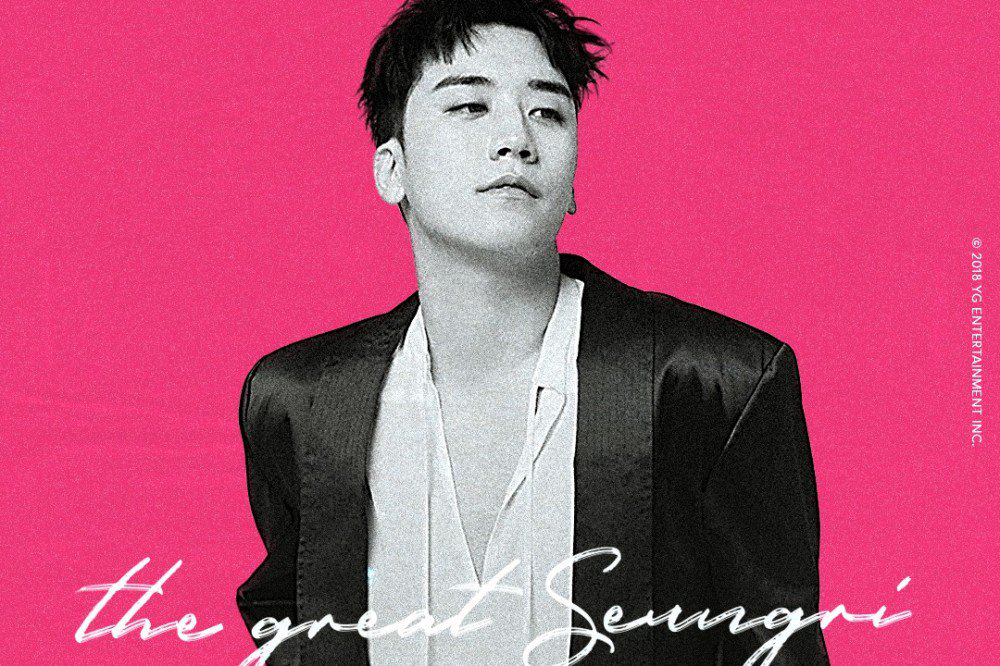 Rule number one: If you're going to name your album "Great" anything, you better make sure it lives up to the name.
BIGBANG's Seungri, who's had two solid EPs in V.V.I.P (2011) and Let's Talk About Love (2013), made his recent solo comeback with The Great Seungri, an album that had minimal teasers as it was about to be released.
This should have been a tip-off. Usually, entertainment companies either bombard potential audiences with too many teasers or none at all if a product is low-quality. The Great Seungri is not Seungri's best effort, nor is it worth the hype it's been receiving from excruciatingly bias fangirls who think anything oppa does is lined with gold. It's okay to admit that some albums are clunkers. The Great Seungri falls into the unfortunate "clunker" category as the five-year wait since Let's Talk About Love and the excellent  "Gotta Talk to U" did not reward fans with anything superb. If this album belonged to any other idol not named "Seungri," not from BIGBANG, and not from a Big-Three company, it would have been considered a lackluster album with a few tracks worth discussing before it became a completely forgotten release.
While "1, 2, 3" is a fun song, it's not fitting for a title track. The fun, upbeat music saves the tune from being a basic one, but it's not an elite song that should be expected from Seungri. On the positive side, "1, 2, 3" has a fun MV that captures of the magic of musicals and dance movies from the 1970s and 1980s even though it is perfectly 1950s, American Bandstand. It's simplistic and fun enough to provide reminders of the past and the excitement the music scene brought, but "1, 2, 3" fails to highlight Seungri's vocals. The vocal distortions and lack of refinement show that Seungri has not really grown as a vocalist, and this is an issue for him given how long he's been in the industry. "1, 2, 3" could have been a better track, but it falls flat.
The other tracks on the album suffer from the same issues: They sound promising at first, but they fail to deliver, save for "Sweet Lie" and "Alone" which mildly stand out as solid tracks even though they, too, come with flaws.
"Sweet Lie," sound-wise, feels like a follow-up track to "Gotta Talk to U." The breaks between the chorus and verses provide a good beat that adds interest to the song. It's a mild dance track, but it's soft and delivers one of the album's best moments. Meanwhile, "Alone," another soft track, feels most suitable to Seungri's vocal range. The song is composed well with nice, subtle rises and falls within the verses. The instrumentals almost match "Sweet Lies,'" so the songs bookend each other well. However, if they are played back-to-back, there isn't a lot that differentiates the two much, so it's like listening to one long song given how both tracks have a similar layout.
Another highlight is "Mollado." The Latin-inspired track is fun and even inspired a dance challenge that took off on social media. The catchy chorus does inspire a need to dance; it can't be helped. This song earned the most repeats on the album, and it almost should have been the title track because it did have the potential to become a viral hit thanks to the #MolladoChallenge. However, a perfectly good song was ruined by the unnecessary rap by iKON's B.I. Yes, rap breaks are popular in K-Pop for some reason, but not all tracks *need* a rap break. "Mollado" is one of those tracks. The inclusion of the rap turned "Mollado" into Camilla Cabello's "Havana" where Young Thug's wholly unnecessary rap made the song utter trash until the no-rap version was released and the track became infinitely better. Just because rap is part of the formula, it shouldn't be a rule.
This brings up some of the issues with The Great Seungri: Four of the nine tracks have featured artists. If fans are made to wait five years between releases, please make the album all about the artist, not the artist and who's featured with him or her. The Great Seungri comes across as Seungri and Friends more than a strong solo effort. Even in the MV for "1, 2, 3," Anda was featured, which led to plenty of articles about her featuring and how she joined YG Family, overshadowing Seungri's actual efforts. Featuring artists should not make more news than the actual album artist.
Other weaknesses for The Great Seungri include the basicness of many of the songs. For example, "Love is You" has some strong points, much like "Mollado," "Alone," and "Sweet Lie" have strengths. The R&B track has a solid chorus with instrumentals to match. Seungri's vocals sound good layered alongside Blue.D's vocals, but the "love is you" line is repetitive, and the track itself is not anything special. It's a typical filler track that has a sexy quality to it, but it's not strongly memorable as a standalone song.
"Be Friend" wanted to be a good track, but nasally vocals, weak chorus, and filler content ("whoa-oh-oh" an "clap, clap, clap") make the song feel amateur at best. Meanwhile, "Hotline" borrows some of PSY's "Gentleman" beats, so it essentially sounds like a song that was heard before. The bridges leading into the chorus are some of the bright spots, but it's another song that does not do justice to Seungri's vocals.
"Good Luck to You" wraps up the album, and like other tracks, the instrumentals and vocal distortions take a lot of attention away from the actual vocals. While simple songs can be pleasant, the track is almost too simplistic in turns of lyrics and arrangement that it doesn't add a strong exclamation to climax the album.
The Great Seungri begs to be liked, especially since Seungri—despite his player reputation—is probably the most likeable member in BIGBANG. He's charming, charismatic, and wickedly humorous, but these traits did not carry over to this album. Sadly, this album feels more like a throwaway rookie album compared to V.V.I.P and Let's Talk About Love. The latter, if it wasn't promoted around the same time as G-Dragon's Coup d'Etat, more than likely would have been more successful. The Great Seungri has been ranked number one a few times since it's release, but is this due to fans missing BIGBANG, fangirl bias, or actual album quality? The lines are often blurred in the K-Pop world, but if fans were honest, they might hear that this album is not the best one available right now.
The Great Seungri earns a 2/5.
—-Joelle Halon
2 responses to "The Great Seungri All Hype, Lacks Greatness"
Related Articles