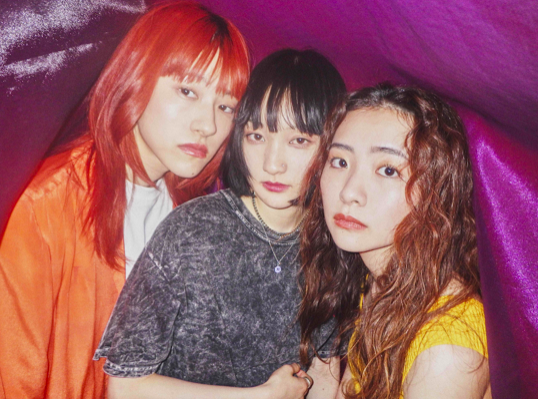 Three-piece band Chilli Beans. was formed in 2019 by members Moto (vocals), Maika (bass and vocals) and Lily (guitar and vocals). Today they released the music video for 'School', a song from their upcoming debut full album, titled 'Chilli Beans.'
'School' music video:

'School' subscription
https://chillibeans.lnk.to/School
The lyrics to 'School' are a declaration of cutting ties by a girl who no longer wants to follow the rules. It takes full advantage of each Chilli Beans. member's shared role as vocalist, with bassist Maika's vocal line contrasting with the choral blend at the song's finale, resulting in an unmistakable song that is drenched in noise yet somehow also nostalgic.
Chilli Beans. are a neo-garage band combining rock and next-generation sounds, with a unique vocal sense and a talent for melodies that linger in the ears. The band's secret weapons are their outstanding songwriting sense, skillful vocal work and overwhelming live performances.
The track 'lemonade' from their first digital EP took the No.1 daily spot and No.3 weekly spot on Spotify's 'Viral 50 – Japan' playlist when it was released in August 2021, and the band have reached a wide range of fans across generations on social media.
March 2022 saw the release of their second digital EP 'Daydream', and their song 'Tremolo' was used in a commercial for cosmetic brand Rosette. Following this success, the band's second digital single 'My Boy' was released on April 13 and was selected as the opening song to MBS TV drama series 'Motokare←Retry'.
The band held their own live event titled 'Dancing Room 002' in Tokyo and Osaka in June, which followed March's 'Dancing Room 001', and they are now preparing for their first solo concert on September 9 at LIQUIDROOM in Tokyo, titled '1st Oneman Live Chilli Beans. Room'. This breaking band are growing day by day.
Their self-titled first full album, 'Chilli Beans.', will be released on Wednesday, July 13. As you may guess from the title, it will be an album that reflects Chilli Beans. exactly as they are, expressing themselves through free production and through making music just the way they want to make it. The album will include 14 songs.
This year, Chilli Beans. will also appear at two of Japan's most iconic music festivals: SUMMER SONIC 2022 and ROCK IN JAPAN 2022. Keep an eye out for more!
◆ First full album info
Artist: Chilli Beans.
Title: 'Chilli Beans.'
Release date: Wednesday, July 13
▼ CD preorder link
https://www.merchbar.com/pop/chilli-beans
▼ Tracklist
CD (for all three versions)
1. School
2. lemonade
3. It's ME
4. This Way
5. neck
6. Undoron
7. My Boy
8. L.I.B
9. Tremolo
10. HAPPY END
11. blue berry
12. Vacance
13. Shekilala
14. call my name
More info
▽ Official website
https://chilli-beans.amebaownd.com/
▽ Instagram
https://www.instagram.com/chillibeansmusic/
▽ Twitter
Tweets by chillibeans_mc
▽ TikTok
https://www.tiktok.com/@chillibeans.official
#ChilliBeans #debutselftitledalbum #Julyannouncements #kcrushnews #ChilliBeanspressrelease #jpop #Japanesepopband #ChilliBeansSchool #ChilliBeansdebutalbum #Moto #Maika #Lily #MV #ChilliBeansMoto #ChilliBeansMaika #ChilliBeansLily #ChilliBeansSchoolmusicvideo #kcrush #kcrushamerica #Japaneseidol #3membergirlband
Related Articles