For those that don't know, Makestar is a sort of crowdfunding site made for Kpop groups. Companies post a group's information, usually about a comeback or item for sale, and allow fans to donate money with perks attached to higher donations.
Makestar's home page
For example, Stellar, have a project for a 'Fan Special' albums that is currently on-going. As you can see below, they have exceeded their project goal by more than $40,000.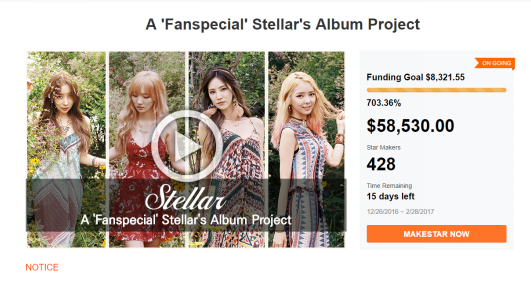 Some of the donation perks include Honorary Producer for the most basic donation($0.99) all the way up to invitations to Stellar's showcase, music video filming and a meal with the group($832.20).  It is safe to say this has been a success for Stellar, as most projects on Makestar are.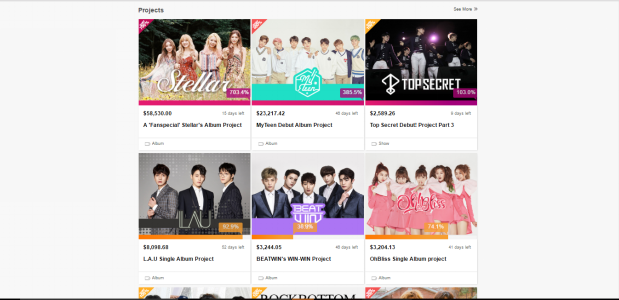 Glancing through the website it is easy to see that the groups that are holding projects are not the most popular. However, popularity and talent are not synonymous which is why this website's services are so important. It is easy for groups, especially girl groups, from small or new companies to get lost in the sea of the dozens of groups that debut every year. Most groups are able to establish a fan base and with Makestar that fan base can directly support any future efforts the group makes.
Makestar also follows through on all promised items from a support. For the project supporting Astro's photobook project Makestar updated as goals were met, most recently posting information regarding a promised subway ad for Astro's first anniversary.
It is important to keep in mind a successful Makestar project does not guarantee success of a group. High4 have had successful fundraisers, however, after leader Sunggu announced his departure from the group, Makestar announced that the current project would be High4's last album. Internal issues within companies or groups can cause even the most fruitful projects (High4 raised $37,000, 427% of their goal) to end in failure. Similarly, WA$$UP reached their project goal and are planning on releasing an album despite the departure of 3 members, including UPRS Season 2 runner up Nada.
In short, money cannot solve all a group's problems. However, barring that there are no other issues, a service like Makestar can help groups who are having a hard time financially stay afloat longer. By placing power in fans' hands, it shows that there are people who want to see a group survive to produce more content.
Sometimes it comes down to your favorites wanting to know whether or not they are still your favorites by using this style of platform.
Would you look down on your favorites if they had to fundraise to make comebacks?
Photos: Makestar.co
Disclosure:  KCRUSH has contributed to and will continue to support the fundraising efforts on Makestar.
—-Ke'Anna Bullard
Related Articles