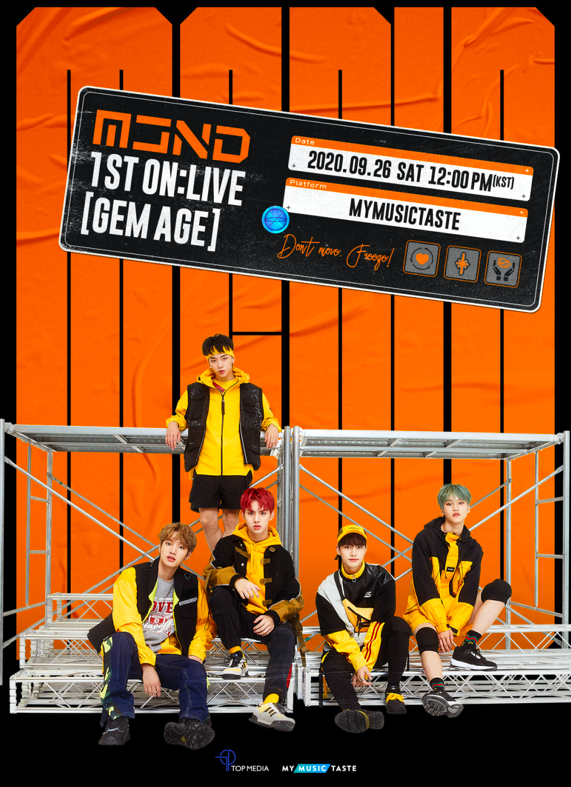 After successfully captivating audiences all over the world, MCND will be holding their very first online concert MCND 1ST ON:LIVE [GEM AGE] on September 26 starting 12PM KST.
MCND's first online concert was made possible by a technology forward platform, MyMusicTaste, that not only allows fans to request physical concerts of their favorite artists in their cities, but also provides the newly added feature of online streaming, which allows artists and fans to stay connected in the pandemic age.
TOP Media's rising 5-member boy band is already set as one of the main representatives of the new K-pop generation with their well-crafted performances and producing skills.
Freshly debuted in 2020, the band received worldwide attention from the get-go with their pre-debut single "TOP GANG" thanks to their fresh and hip hop inducing concept.
They officially debuted on February 27, 2020, with "into the ICE AGE " and its explosive lead title song "ICE AGE". They then followed up, with their 1st Digital Single "Spring" on April 9, 2020.
Keeping themselves busy and continually challenging their creative impulse, MCND just released their first mini album [ EARTH AGE ] and its addictive title song "na na na".
The current line consists of Castle J, BIC, MINJAE, HUIJUN, and Win.
Tickets sale for MCND 1ST ON:LIVE [GEM AGE] will start on September 14 12:00 PM KST, on MyMusicTaste.com. Further information regarding ticketing and the show itself can be found through https://mmt.fans/i6KS or through other social media channels of MyMusicTaste.
About MyMusicTaste:
MyMusicTaste is a fan initiated live event making service that brings fans, artists and promoters from all over the world together in one place to create a valuable and meaningful concert experience for everyone involved. MyMusicTaste puts the power in the fans' hands, allowing fans to request their favorite artist's concert in their city. With the mission to connect and amplify the voices of fans all over the world, MyMusicTaste successfully promoted concerts of artists such as EXO, GOT7, MONSTA X, The xx, Machine Gun Kelly, and more in over 57 different cities. With the simple idea–empowering fans to bring their favorite artist's concert in the city of their choice based on fan demand–MyMusicTaste is challenging the $27 billion concert market through cutting-edge technology and sophisticated, user-friendly service. Currently, www.mymusictaste.com supports more than 30 countries and offers 15 different languages.
END
###
Related Articles