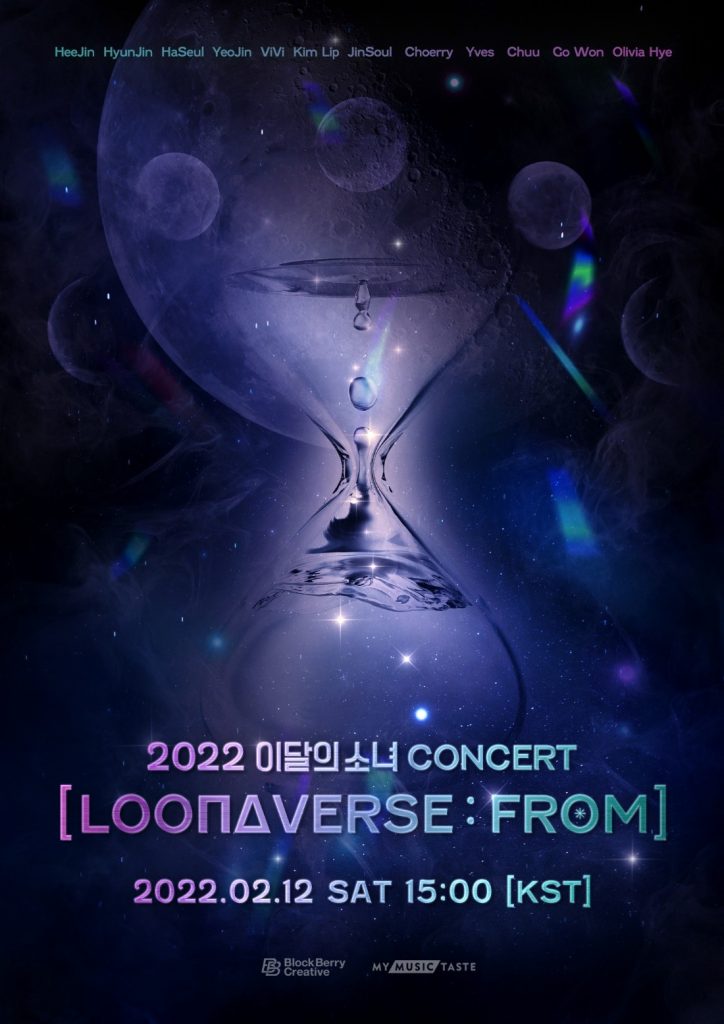 LOONA, the global music streaming chart dominating K-pop group is back for their first concert of 2022. Kicking off the start of the year with a bang, they're ready to
greet their fans live in a simultaneous offline and online event. 2022 이달의 소녀 CONCERT [LOONAVERSE: FROM] is set to take place on February 12th at 3PM KST.
In performances with all 12 members together again, they're ready to greet their fans in-person for the first time in nearly three years for a hybrid offline and online event in Seoul. Almost seven and half months after their last online concert, the girls are ready to bring back their bright energy to the stage.
As a group that has enchanted fans from even their pre-debut activities, they are once again diving into the realm of the LOONAVERSE for this concert. In their mysterious chapter-filled lore that fans have come to enjoy for all the interpretations and complex storylines, LOONA is adding yet one more layer with the return to live performances in this concert.
From their official debut in August 2018 with chart hits like "Hi High", "Butterfly", "So What", and "Why Not?" ranking them on international music charts like the Billboard 200 and iTunes, LOONA sees no end to the success of each release.
Their latest music video, "PTT (Paint The Town)" has already garnered over 50 million views to date. Each year, they bring in new achievements to stack up on the shelf with awards from their debut year like the 2018 MTV Europe Music Awards win for Best Korean Act to the recent acknowledgement of their large fan base by radio shows in the U.S. for having one of the most requested songs in 2021.
Crossing over in global popularity, LOONA even made their Japanese debut in 2021 with their double A-side single, "HULA HOOP / StarSeed -Kakusei-".
Now, in 2022, the group is preparing to meet their fans once again face-to-face. Global fans can tune into the concert online to meet LOONA and enjoy the show together in real-time. 2022 이달의 소녀 CONCERT [LOONAVERSE : FROM] is set to bring together fans from all over the world into a space just for LOONA and Orbit (fandom name).
For this concert, LOONA continues their collaboration with MyMusicTaste, a technology forward platform that breaks the barriers set by the pandemic and brings fans and artists together to create a new way of connection.
All offline in–person events follow local jurisdiction protocols to ensure a safe environment for the artist, fans, and staff present at the venue.
LOONA's twelve members: HeeJin, HyunJin, HaSeul, ViVi, YeoJin, Kim Lip, JinSoul, Choerry, Yves, Chuu, Go Won, Olivia Hye.
Further information regarding ticketing and the show itself can be found through https://mmt.fans/h1Y7 or through MyMusicTaste's other social media channels.
2022 이달의 소녀 CONCERT [LOONAVERSE : FROM]
February 12, 2022, 3:00PM (KST) – MyMusicTaste
About MyMusicTaste:
MyMusicTaste is a fan initiated live event making service that brings fans, artists and promoters from all over the world together in one place to create a valuable and meaningful concert experience for everyone involved. MyMusicTaste puts the power in the fans' hands, allowing fans to request their favorite artist's concert in their city. With the mission to connect and amplify the voices of fans all over the world,
MyMusicTaste successfully promoted concerts of artists such as EXO, GOT7, MONSTA X, The xx, Machine Gun Kelly, and more in over 57 different cities. With the simple idea–empowering fans to bring their favorite artist's concert in the city of their choice based on fan demand–MyMusicTaste is challenging the $27 billion concert market through cutting-edge technology and sophisticated, user-friendly service. Currently, www.mymusictaste.com supports more than 30 countries and offers 15 different languages.
About Blockberry Creative:
Blockberry Creative is a South Korean record label formed in 2016. It is a subsidiary of Ilkwang's Polaris Entertainment. The label is home to the girl group LOONA. Blockberry Creative has lived up to its own name through the unique approaches of artists development and promotions. Blockberry Creative 정보:
Related Articles