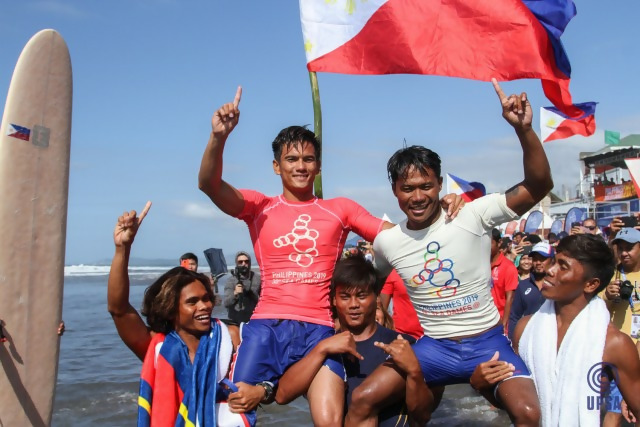 Sportsmanship was on full display during the 2019 Southeast Asian Games (SEA Games)!
During the surfing competition December 6, 2019, the men's longboard surfing semifinals took place at Monaliza Point, La Union in northern Philippines. While the competition took place, Typhoon Kammuri (Tisoy) made seas choppy, adding an extra layer of difficulty to the competition.
During a one-on-one race with Indonesian surfer Arip Nurhidayat, fellow surfer Roger Casugay—who represents the Philippines—put personal glory aside to help his competition when Nurhidayat's ankle leash broke, causing Nurhidayat to be swept into the waves. Casugay saw what happened, paddled back to Nurhidayat, and helped him back to shore.
On social media, Casugay, who is also a surfing instructor, is being hailed as hero.
"No, I'm not a hero," Casugay said in a Rappler interview. "I didn't really save him from drowning. He is a good swimmer. I just calmed him down."
"We have a brotherhood in surfing," Casugay told CNN. "If someone needs help, you go. I didn't think about winning and just relieved that we were both safe. We were overjoyed when we reached the shore."
On December 7, Casugay and Nurhidayat paired up in a rematch; Casugay won to advance to the finals. For the gold medal match, Casugay beat fellow Filipino surfer Rogelio Esquivel to score gold. With the win, Casugay became the first-ever Filipino to earn a gold medal in surfing.
Even with his surfing gold medal, the most important gold Casugay won was in sportsmanship and showing that, even in the heat of competition, helping our fellow man is more important.
Photo credit: Manila Bulletin Sports
—-Olivia Murray
Related Articles