DONGKIZ 5th Single Album [CHASR EPISODE 1. GGUM]
Story of the boys who are working hard to fulfill their dreams
Try being naughty on a frustrating day, like a kid! Voice refusing a boring day
Naughty boys' attractiveness that would blow up the summer heat
DONGKIZ who has been loved since debut in April 2019, with its own style of Music and various concepts has back in summer with pleasantness following the freshness in Spring.
The theme of the Album is 'CHASE' which will be starting as a Series of Episodes, it comprises of 3 stories about boys developing.
The first theme that DONGKIZ would CHASE will be 'DREAM', the Album' CHASE EPISODE 1. GGUM which will be release on July 1 is expressed uniquely by using the Korean word of Dream as it is sound in English. This also shows the concept of DONGKIZ who refuses to be common, and talk about the things that they could learn from love and break up in following albums.
The Title song 'CRAZY NIGHT' in DONGKIZ 5TH Single Album is produced by is produced by the Rookie Producer Cray bin. It's a song with exciting beat and Funky Base line that could be enjoyed by everyone and it has a meaning to live as we want from our tough lives even if it's just a moment.
For the performance, the choreographer Choi, Young Jun who has worked as a dance trainer on Produce Series and with the best artists like Seventeen, GOT7, Wanna-one, NU'EST, THE BOYZ, has joined with DONGKIZ for the first time. The dance move where it expresses a horn on the hip is very unique and with the performance like having fun around as if they are like naughty boys will rock the stage.
Moreover DONGKIZ's Mascot Ghost Character 'DONGRI' will be joining the stage as it was in the album 'BlockBuster' in 2019. The members will try to blow up the Summer heat as well as the fun to watch the stage and listen to music.
In this album KY prepared 'Special Thanks to' Version as DONGKIZ has included Special tracks for their fans in every CD. With his talented skill playing the guitar, KY played the Title song 'CRAZY NIGHT' in acoustic version with his voice mail thanking to his fans
The new series album of DONGKIZ who has made people happy as well as refreshing and also growing up themselves with new concepts and fancy performances, will be now revealed soon.
We're all expecting for their exciting energy in the Summer 2021.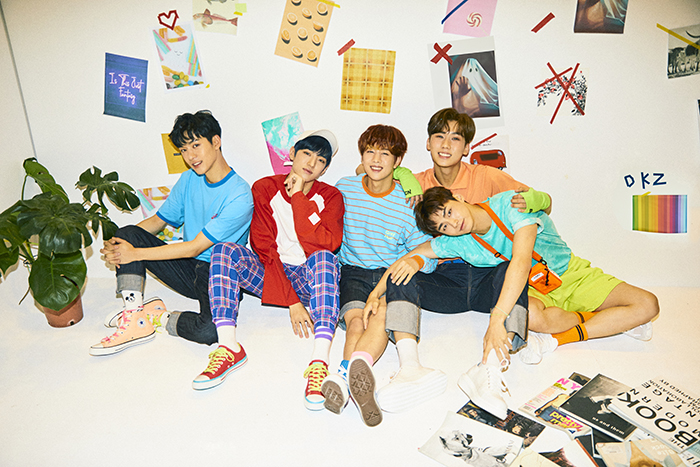 [CREDIT]
1. CRAZY NIGHT
Lyrics by Cray bin
Composed by Cray bin
Arranged by Cray bin
2. CRAZY NIGHT (Inst.)
Lyrics by Cray bin
Composed by Cray bin
Arranged by Cray bin
3. Special Thanks to by Kyoungyoon (CD Only)
Lyrics by Cray bin, Kyoungyoon
Composed by Cray bin
Arranged by Cray bin, Kyoungyoon
Guitar by Kyoungyoon
Related Articles