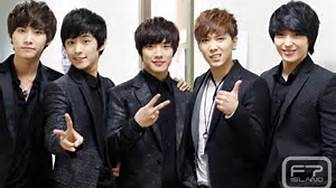 F.TIsland is a South Korean pop/rock band managed by FTC Entertainment that originated in 2007, and widely known for their debut song "Love Sick". Their "Cheerful Sensibility" was the sixth, best selling debut album in 2007. The band's F.TIsland name originally means Five Treasure Island pertaining to their five-member band. Lee Hongki on vocals, Lee Jae jin on bass and vocals, Choi Jong-Hoon on guitar and keyboard, Song Seung-hyun on guitar and vocals, and Choi Min-hwan on drums.
The band had a great run on 2007, first appearing on a Korean show "Wanna Be My Girl Friend?" and having their first official, on stage, live performance in Live House Melon-AX, in Gwangjang-dong in Seoul on May 27, 2007. After their astounding debut in South Korea, the band began expanding their popularity overseas, hence debuting their Japanese album titled "Prologue of F.T.Island" that was released on June 7, 2008. After their successful run in Japan, the band returned to Korea releasing their second Korean album "Colorful Sensibility" on August 27, 2008, and releasing a follow up on October 17, 2008, "Colorful Sensibility Part 2". In 2009, it is said that Oh Won Bin would be leaving the band, hence a new band member, Song Seung-hyun joined the band. F.TIsland had a strong run on their tours in parts of Asia, including Japan, Taiwan, Singapore and others successfully showcasing their talent and music. They then toured, again in the months of January and February 2010, in the Philippines, Thailand, Taiwan, Hong Kong and Singapore.
The band's massive run in years 2009-2012 had gained them various T.V shows and appearances in different countries. Notably as the only K-pop band that's been featured in Fuji TV's Mezamashi Live for 3 years in a row. Although, they where successful with their project endeavors and multiple tours as well as promotions, they also faced a list of complications along the way. Like their lead vocalist Lee Hongki having numerous projects and contracts happening within the Television industry that made the band make some changes in their project arrangements. Despite those challenges, they still managed to stick together. While other members had different projects, too, the band developed a sub-band named F.T Triple, for the purpose of showcasing Choi Jong-hoon, Choi Min-hwan and Lee Jae-jins' talent. Each one of F.TIsland's members has their own unique and fulfilling talent, that makes the band what it is, which is highly successful with whatever they produce.
The band made their official comeback to Korea on November 18, 2013, releasing their fifth mini-album "The Mood". Their song, "Madly" from their album 'The Mood", has topped Mnet real-time music. And, is topping the Hanteo and Gaon weekly charts. Their album has been highly recognized and appreciated overseas, taking 1st place in weekly booking ranking of HMV Koreas' ranking chart. The song, "Madly" had its music video released on midnight of November 18, 2013, featuring scenes of reed fields where the sun and sky are both at its end approaching the night. Nice setting for the feelings and meaning of the song. The video made a deeper impact on their music as Choi Jong Hoon, the band's keyboard and guitarist did a great job playing the main character in the video. Their music "madly" has an ambiguous set of emotions that connects to their listeners in various ways. And, forming a complete symmetry in their music video, a deeper impact to their music and popularity. F.TIsland has also been associated with different labels like Mnet media, AI Entertainment and Warner Music Group.
One more thing, do watch Lee Hongki in his newest KDrama, "Bride of The Century" in February, 2014, for free, only on DramaFever.com.
ALBUMS